How to Automate Workflows with Low Code No Code Technology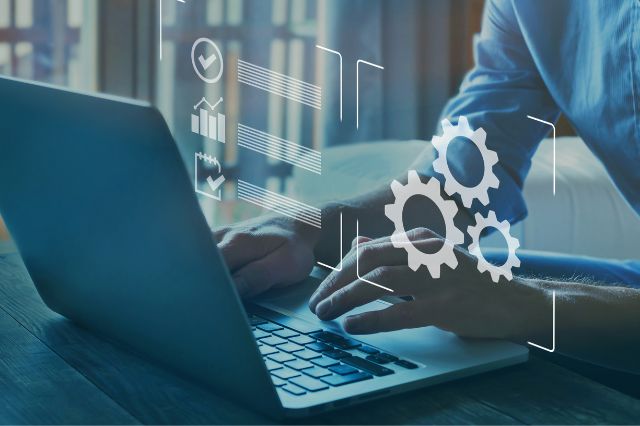 Modern businesses require the saving grace of automation to thrive in the competitive industry. Most traditional business process tools are sluggish and time-consuming, thus leading to bad business. However, digital transformation has established automated software that helps increase speed, reduce cost and improve productivity without coding expertise. Companies can invest in incredible tools like low-cod/No-code tools and advanced systems such as Workflow automation software.
What is workflow automation?
Workflow automation consists of identifying work tasks that are automated using technology, digital apps, and other tools.
In particular, this involves areas such as lead management, data entry, writing follow-up e-mails as well as HR and marketing tasks. Switching from a manually completed task to an automated process not only saves your company money but also reduces the risk of human error.
Benefits of business process automation
● Erase errors and increase employee efficacy
Business automation is quite significant for business growth. It's a business prospect that allows employee growth by enhancing their production skills. Automations eradicate human errors enabling users to complete tasks fast and effectively.
● Increase productivity
Reducing lengthy business processes allows Companies to work fast and produce more. Employees can handle more tasks due to the automated system that is error-free. This helps save time and resources, thus increasing productivity.
● Improve work relations
Workflows enhance collaboration as departments need to work together at different stages. It's sequential, meaning every user has a responsibility. The software accommodates different tools like a No-code system to help create applications that boost the process functionality. Each team participates in providing a comprehensive app that caters to all business needs.
How to automate your Workflow using No-code/Low-code Technology
No-code platforms come in handy for non-developers and organizations, for they can automate their workflow with professional assistance. This provides more skills and saves funds and time for businesses. However, organizations must check on various aspects to merge No-code and workflow automation successfully.
1. Businesses need to identify their business process.
Before automating your business process, first, analyze it from different angles. Business should understand their current situation and what they want to achieve. They should also check arising issues and how workflow automation will assist in eliminating the problem. Organizations can break the details into small sections and automate each section based on the need using a low-code system.
2. Mapping your business process
After aligning the business process, the user needs to schedule the steps and allocate each user their task. Asses the details they will use in the process as they move from one stage to another. Having an organized business plan help achieve business goals within a short period. To achieve better results, incorporate the no-code system to automate the process. One must select an automation solution that works for every step and meets business needs.
3. Set a budget
After identifying and mapping the process, the user must create a reliable budget that caters to every step. The workflow process involves other tools (no-code) which are cheap to implement but require the right system for the process. Businesses also need ROI (Return on Investment) to know whether the process provides good returns or losses.
4. Settle for best No-code/low-code platforms
The tech market has thousands of No-code/Low-code platform vendors. Organizations need to settle for a system that handles their issues fully. The No-code should be budget-friendly, simple to use, versatile, and provides automation tools. Most platform offer automation features, meaning no coding is required in the business process. 
5. Test the systems
Businesses need to test several No-code platforms before purchasing the system. It's advisable to seek demonstrations from vendors. Once satisfied, the user can settle for a particular system that aligns with their needs.