Restaurant Quality Guide to Getting Your First Michelin Star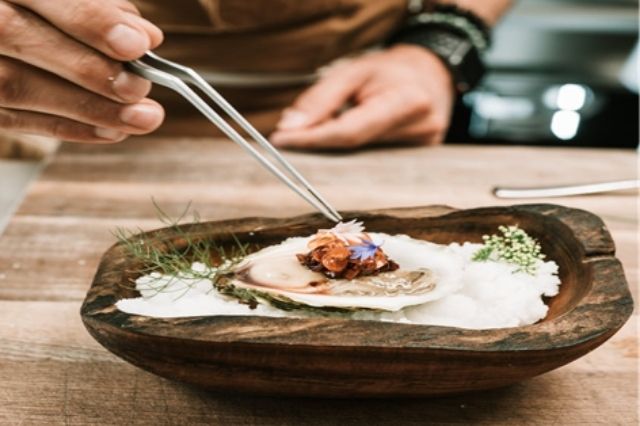 Every chef's dream is to own a restaurant and eventually earn a Michelin star.
The million dollar question is how.
In this article, we'll discuss the history of the Michelin star, and then present the five most important restaurant quality standards that every chef and restaurant owner should know if they are serious about earning the coveted star.
How the Michelin star began
The Michelin Guide started out as a free guidebook for motorists meant to encourage them to tour around France.
Now, a Michelin star is considered to be the ultimate hallmark for culinary excellence. Restaurants now receive zero to three stars based on the quality of food they prepare. One star is "a very good restaurant that is worth a stop", two stars is "excellent cooking that is worth a detour" and three stars is "exceptional cuisine that is worth a special journey".
Let's dial back several more years.
Michelin is a tire company founded by brothers Andre and Edouard Michelin in 1889. The Michelin Guide was a roadmap for travelers to know where to change tires, stay for the night or grab a meal. The goal of the guidebook was to encourage travelers to put more miles on their vehicles and, as a result, increase the demand for cars and Michelin tires. The guide was given away for free until 1920, when it was relaunched and sold for 7 francs each.
The brothers had been labeling restaurants with one star in the whole of France until they introduced a 0 to 3 scale in 1913 that covered most of Europe and of North America. The top restaurants in the world such as NOMA and Geranium  have 3 Michelin stars. These Michelin star restaurants are known to provide an excellent dining experience and fresh ingredients that are picked from their own backyard.
The Michelin Guide also awards the Michelin Bib Gourmand which recognizes restaurants that offer excellent three-course meals with a maximum cost based on local averages.  Today, the Michelin guide now rates over 30,000 establishments across three continents.
What it takes to earn a Michelin star
The exact standards used by restaurant inspectors are unknown, but according to the panel of food and beverage experts in the Michelin Guide Singapore Trade Seminar in 2018, Michelin stars are awarded based on 5 criteria:
quality of ingredients used
use of flavor and cooking techniques
character of the chef reflected in his/her cuisine
value for money
consistency
It is widely observed that many Michelin star recipients are fine dining restaurants. However, Michelin inspectors giving recognition to Hawker stalls in Singapore and tapas bars in Spain proves that the Michelin Guide recognizes quality even for local flavors.
Chefs and restaurateurs could learn a thing or two from the restaurants who already made it. Here are some helpful restaurant quality tips to follow in your pursuit of a Michelin star.
Quality standard 1: Fresh ingredients
Every top restaurant's secret is having fresh ingredients. There are a few sure ways to get fresh ingredients: go straight to the farmer, or plant and pick the ingredients yourself. Foraging became the new trend for restaurants, which was made famous by NOMA and Geranium. These highly rated restaurants forage within a 100 mile radius in land and at sea, respectively. 
Using local ingredients found in the area would assure that produce is fresh as it does not have to be shipped across long distances. Other than that, buying local ingredients would help the economy by supporting local farmers and businesses.
Additionally, it is ideal to use seasonal ingredients as well to increase the variety of food offered to customers. It will also increase overall sales as it promises a different dining experience for spring, autumn, summer or winter.
Quality standard 2: Simplicity
"Less is more" can be applied to food, too. Simplicity in presenting the food is beneficial in two ways. First, there is more time to focus on flavor than on aesthetics. Second, making meals aesthetically appealing could be a trap. It could be hard to gauge if one dish is "pretty" enough, and this could lead to chefs adding ingredients that are irrelevant to the overall taste. Complicated plating is also harder to prepare and replicate, which just lengthens diners' waiting time without adding real value. The rate at which the dish is served is equally important as the quality of food. Keeping the plating simple would satisfy both.
On the other hand, the infamous celebrity chef Gordon Ramsey currently has seven Michelin Stars in all his restaurants in the world. He is well-known for his outbursts in several reality shows. These outbursts may have gained him internet fame but it is also a statement on how he runs the kitchen. Gordon Ramsey focuses on quality food delivered on time, and this personality has translated well into his career.One of the criteria revealed in the 2018 Michelin Trade Seminar, the chef's personality, is usually the signature that separates a seasoned chef worthy of a star and the rest of the aspirants.
Ask yourself, what makes your restaurant unique? Answering this question is part of the perfect restaurant business plan, and you should be able to showcase your answer through your food and service.
Quality standard 3: Excellent service
Let's say your restaurant serves the absolute best food in the world but people had to wait several hours to be served. Naturally, the diners won't be satisfied. Providing excellent brand experience should be part of your service. That's why well-trained and properly groomed food servers are highly valuable.
But the heart of brilliant restaurant service is none other than the chef. A Michelin star restaurant is expected to have a chef who knows how to balance practicality with the need to showcase ingredients and cooking techniques. Kitchen-to-table serving time should be considered so that diners can enjoy a meal while it's hot. Since Michelin inspectors come unannounced and more than once, having a sustainable cooking style and set of ingredients will greatly help the chef and staff in achieving the consistency of food quality.
Quality standard 4: Local and global presence
How do Michelin inspectors find the restaurants to test? One can only imagine how difficult it was to look for restaurants to review back in the day. The importance of the Michelin brother's little red guidebook seems to be clearer from this viewpoint. Considering that Michelin inspectors eat in two restaurants a day and that multiple inspectors visit the same place, the competition is tough for aspiring Michelin star restaurants.
However, having an established local presence will help lead Michelin reviewers to your restaurant. If the locals think your restaurant is worth stopping at, this will eventually lead to tourists trying your food out. The buzz generated by locals and tourists are no doubt helpful in your bid to get the attention of the Michelin restaurant inspectors.
Luckily, in today's world, it has become even easier to find restaurants worth rating due to popular online reviews left by locals and tourists. So, please remember to invest in your online presence.
You can start by having a well-designed website to increase your chances of getting more customers and shining reviews. After you rack up numbers in the digital world, Michelin inspectors would surely find reason to visit you and even give you a star.
Quality standard 5: Innovation
Rated the number one restaurant in the world on four different occasions, NOMA is supposed to have no trouble with innovation, right? The truth is, the need for reinvention is one of the reasons the restaurant closed briefly in 2018. Having a recipe that is appreciated by many people across several years can give a false feeling of security. Recycling the same old menu over and over again is bound to be bad for business, even if you're a top-rated restaurant.
The case of NOMA only proves that you should not stop at being good or great. What is good or great changes every year, or sometimes every day. But beyond cooking techniques, flavors, pricing, and ingredients, what else should you upgrade?
Like we mentioned earlier, the fight has expanded to the digital world. Your online presence should not be represented by your website only. Make sure you have active social media pages so that customers can easily find and communicate with you. Take advantage of video- and photo-sharing platforms to entice people to visit your restaurant and taste your food. You can even create your own restaurant blog to have higher and more in-depth engagement with your customers.
Final words: Guide to your first Michelin star
There are no hard-and-fast rules for gaining Michelin stars. But by looking at the information available on the Michelin Guide, as well as the experiences of Michelin star restaurants, we came up with a restaurant quality guide to help you in your Michelin journey.
So, take note of these five quality standards:
Use fresh and high quality ingredients.
Keep the presentation simple.
Provide excellent service.
Establish a local and global presence.
Always innovate.