The Benefits of Repairing Vinyl Siding vs Replacing It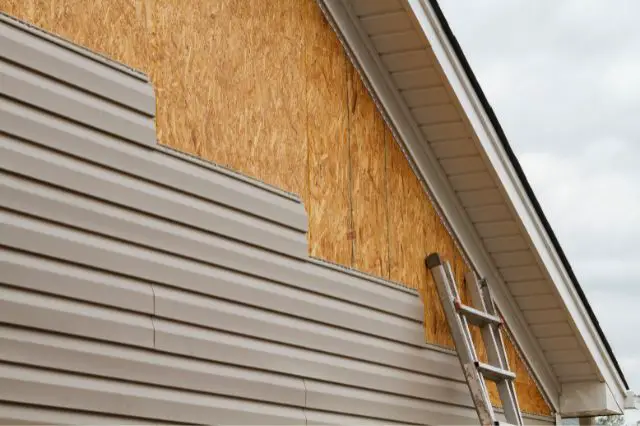 Vinyl siding is a popular exterior cladding material that offers numerous benefits to homeowners. It is durable, low-maintenance, and cost-effective.
However, over time, even the best quality vinyl siding can become damaged or worn, requiring repair or replacement. Reliable Vancouver siding contractors can help you determine whether repairing or replacing your vinyl siding is the best option for your home.
In this post, we will discuss the benefits of repairing vinyl siding versus replacing it and the factors that influence either decision. Take a look.
Factors to Consider When Deciding to Repair or Replace Vinyl Siding
There are several factors to consider when deciding whether to repair or replace vinyl siding. They include the following;
If your vinyl siding has sustained only minor damage, such as a few small cracks or holes, repairing it may be the most cost-effective option. However, if the damage is extensive, featuring large holes, warping, or significant fading, it may be time for a replacement.
If your siding is relatively new and still in good condition, it may be best to repair the damaged parts. However, if your siding is nearing the end of its lifespan, replacement allows you to make a long-term investment in your home.
Repairs are generally less expensive than replacements. But if you're dealing with old or badly damaged siding, a one-off replacement may be better than repetitive repairs.
Benefits of Repairing Vinyl Siding
There are several benefits to repairing vinyl siding, the topmost being that repairs are cheaper than replacements when only superficial damage is involved.
Even minor damage to your siding can detract from the overall appearance of your home. Repairing your vinyl siding restores it to its original condition and can help improve your home's curb appeal.
Repairing vinyl siding also prolongs the lifespan of your siding. Regular maintenance and repairs can help prevent further damage and save you money in the long run.
Tips for Maintaining Vinyl Siding
You can take several steps to prolong the life of your vinyl siding and minimize the need for repairs. Here are some tips for maintaining your vinyl siding:
Regularly inspect your siding for cracks, holes, warping, fading, and other signs of damage.
Clean your siding regularly with a mild detergent and a soft-bristled brush to remove dirt, debris, and stains.
Repair minor siding damage as soon as it is discovered to prevent more severe and costly repairs.
Avoid using harsh chemicals or abrasive materials on your siding that can cause damage and void your warranty.
Consider investing in a professional cleaning and maintenance service to keep your vinyl siding looking and performing its best.
Benefits of Replacing Vinyl Siding
While repairing vinyl siding has its benefits, you may be better off replacing yours. Some of the main benefits of replacing vinyl siding include;
Older siding may not be as well insulated, which can lead to higher energy bills and decreased comfort in your home. Newer vinyl siding products are designed with improved insulation properties, helping to keep your home more comfortable and energy-efficient.
Updated and well-maintained siding can improve the curb appeal of your home, making it more attractive to potential buyers if you decide to put your home on the market.
Update Your Home's Exterior Style and Color
There are various vinyl siding options available, from traditional horizontal lap siding to vertical board and batten styles and a range of colors and finishes. Upgrading your vinyl siding can give your home a fresh, new look that reflects your personal style.
Choosing a Reliable Siding Contractor
Whether you decide to repair or replace your vinyl siding, it is important to choose a reliable siding contractor for the job. A reputable siding contractor can provide guidance on the best course of action for your home, as well as high-quality materials and skilled installation.
If you're considering alternative options for your siding repair or replacement, you might want to explore the durability and benefits of Western Red Cedar siding, which is offered by G&B Quality Cedar Products.
When choosing a siding contractor, look for a company with a strong reputation in the local community. Check online reviews and ask for references from past customers. A reliable contractor should also be licensed and insured and offer a warranty on their workmanship.
Your decision to repair or replace your vinyl siding depends on the extent of damage, the age of your siding, and your budget. We recommend that you schedule a professional inspection to help determine the best course of action. Hiring professional siding contractors also ensures the job is done right the first time around, be it siding repair or replacement.