4 Clever Ways to Store and Organize Water Bottles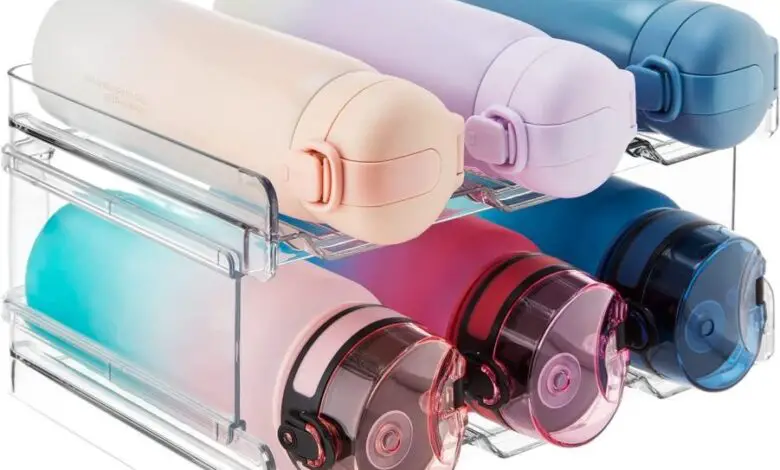 Water bottles are one of those things that keep piling up. You never have any use for all the bottles at once. They're this big clutter in your kitchen you want to throw out. Yet, the moment you attempt to do so, everyone in your house suddenly needs a bottle.
The shape and sizes differ greatly, so they can't be stacked either. Placing them inside the kitchen cabinets means one's going to topple over the moment you open the cabinet door.
Well, we have several ideas for how to organize your pesky water bottles.
Stackable water bottle organizers
The easiest solution for unruly bottles is to use bottle organizers. These are transparent, stackable shelves.
The design differs based on the brand. For example, Lifewit stackable bottle organizers come in 2 and 4 packs. There is one rack at the base, which is connected to the upper racks through the sidebars.
You can assemble and take apart the racks whenever you need. The glass-like quality might confuse you, but these are shatterproof. Wash and clean the racks from time to time, and you're good.
Except, maybe, don't drop the racks into a dishwasher.
The racks have clear dents, where you place the water bottle horizontally. Each shelf can have three bottles.
The space between each designated bottle area and upper racks is enough. You can place bottles of all shapes, even cans and wine bottles, without worrying.
Alternatively, if you want stacks solely for juice cans, you might like this soda can pop-top organizer.
Huge Trolley Rack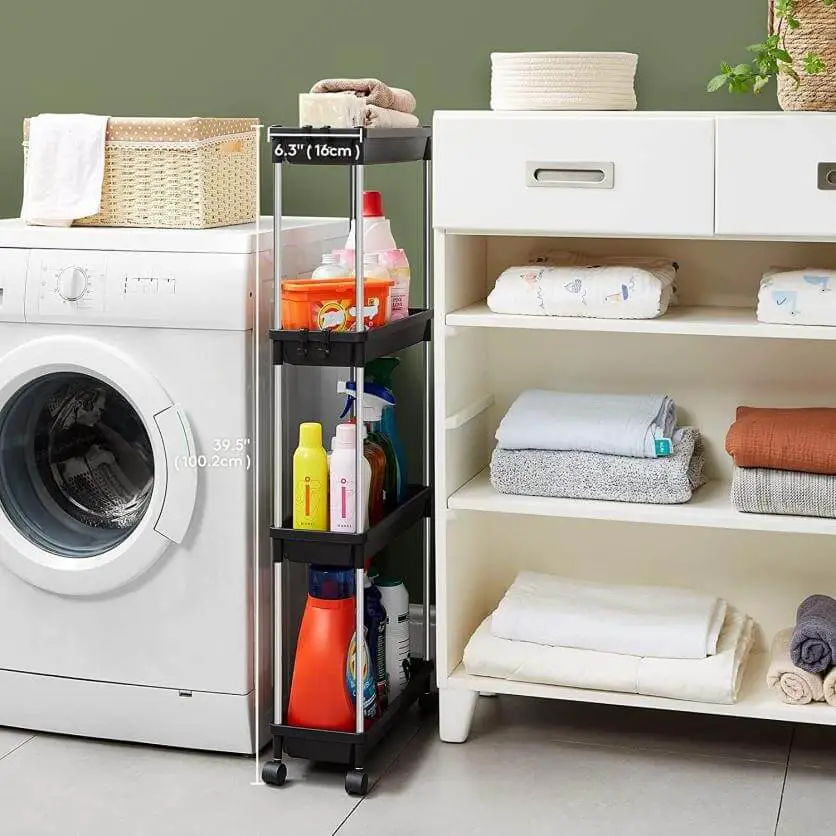 You might even like water bottle trolleys more than stackable racks.
These are essentially slim carts with wheels. You can take the trolley anywhere you want.
Lifewit has these in black and white. There are 4 shelves with a wide distance between each shelf. So, you can keep all your water bottles vertically.
Not only water bottles, but you can also place your pickle jars, baby bottles, detergent cleaner, etc., on the shelves.
One of the most versatile storage items, you can split the huge shelf into two. Keep one in the kitchen and the other in the bathroom.
It works on a snap mechanism. The racks are joined together through the thin plastic legs. You may be the worst at assembling things, and you still won't have much problem assembling this one.
Beyond bottles, the shelves can be used to keep any kind of daily item. Some people even use it to keep their laundry clothes temporarily.
Mesh tote bag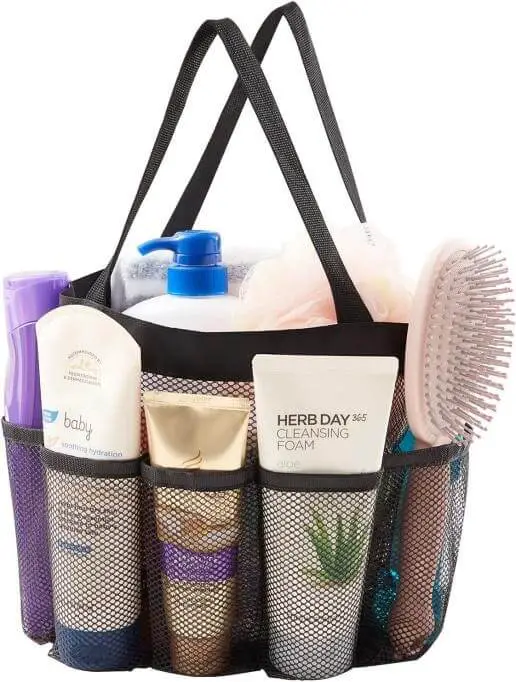 You can organize your bottles with almost anything. Even items you don't usually think of.
The Lifewit tote bag might have originally been for bathroom items, but it has all the qualities of a good water bottle storage system.
This one is a sturdy mesh bag with 7 pockets that you can hang anywhere. It also comes with two handles. So you can take the bag to a friend's house when you are in charge of the drink supply for the day.
You can even carry it with you for a camping trip or flight, for that matter.
The main worry with a bag like this might be the cleaning process. This is where the mesh design is an excellent choice. Once you wash the bag, hang it somewhere with a hook. The mesh will drain out the water quickly.
When you don't have any water bottle to store- which is rare- you can fold it up for storage.
Cooler tote bag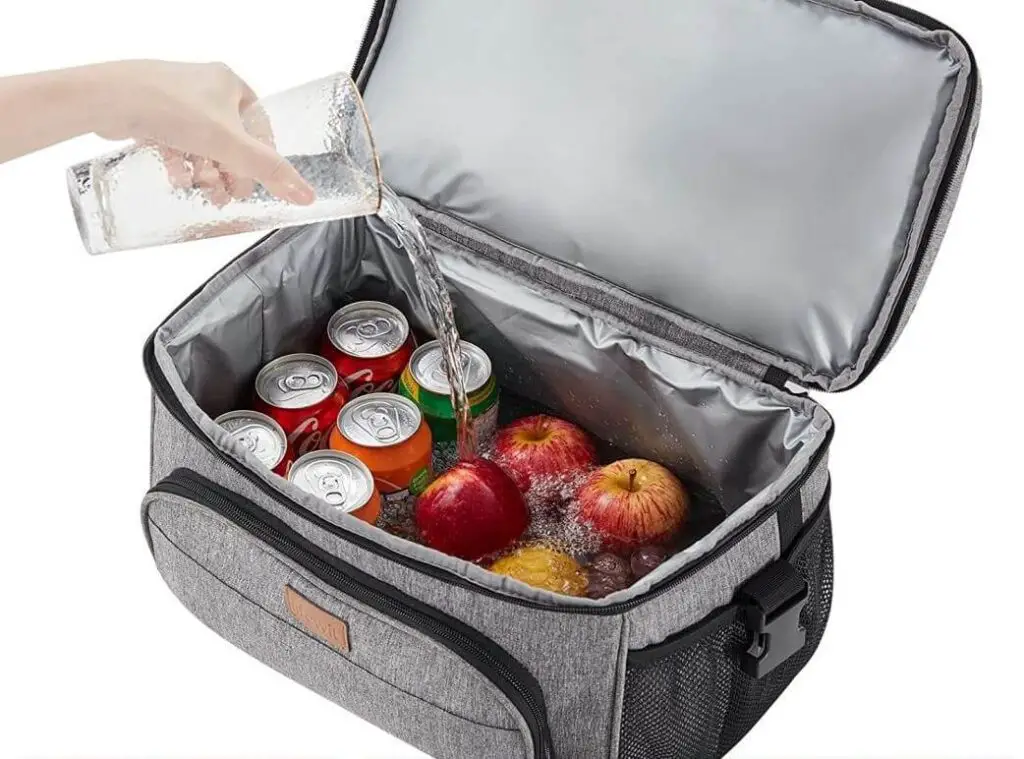 This isn't a water bottle organizer per se, but it could be one if you are feeling creative.
In fact, if you're the type who likes to drink cold water but don't want to clog up your refrigerator, you can store your bottles in the tote bag instead.
Fill up the compartment with ice bars or cold water first. Then, place your water bottles or cans inside the bag. Lifewit has tote bags of various sizes, so choose one depending on your water bottles.
There's no denying the versatility of this one. There are other compartments where you can keep food and small trinkets. It's the perfect companion on a picnic day.
The bag comes with a padded handle for comfort. Additionally, there is a detachable shoulder strap too.
The bag is thermal insulated, so if you were to keep hot coffee in a bottle, it would stay warm too.
Conclusion
If you want your water bottles out of sight, the organizing racks are the best option. You can place the racks inside a kitchen cabinet. For easy access, the mesh bag and trolley racks are better. Then, if you want your bottles to stay cool and neatly organized, you can use cooler tote bags. Some people even use tote bags as carry-ons on flights, with their lunch, juice cans, and water bottles inside.