Advantages of Taking Specialized Online Cloud Computing Courses for Career Advancement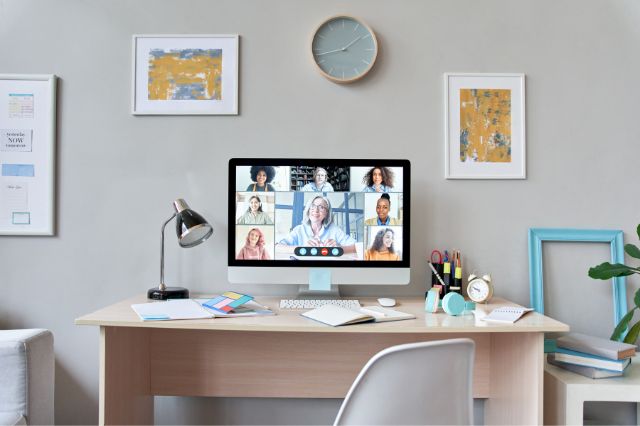 First, let us address the elephant in the room: Is cloud computing a good career?
Yes, it is a promising career.
Online cloud computing courses are an excellent platform for professionals to get acquainted with cloud services and make a flourishing career.
Cloud computing technologies help businesses and individuals achieve scalability, productivity, and a return on investment. Cloud computing providers like Amazon Web Services, Google, and Microsoft Azure have price points that small and large businesses can use depending on their requirements under the pay-as-you-go model.
There is no need for physical infrastructure anymore. Everything is on a remote server, so not only does it help in saving space, rent, and electricity, but it also improves operational efficiency.
The beauty of online cloud computing courses is that you can access videos, study from anywhere in the world, and take virtual classes at your convenience. Once you are a cloud-certified professional with technical knowledge and core skills, you can create, plan, and deploy cloud models for businesses and help them scale.
Cloud computing courses online are enticing as they allow you to aim higher in the field by increasing your earning potential and reputation in the organization.
In the article, we will walk you through the benefits of cloud computing free courses and how they benefit organizations. Also, let us understand the future scope of cloud computing in India and some of the most alluring jobs in cloud computing.
Scope of Cloud Computing in India
Cloud computing is growing, and certified professionals are in high demand. India will have a 22% annual growth rate in artificial intelligence (AI), machine learning (ML), and other technology sectors over the next five years, according to the World Economic Forum's 2023 report on the future of jobs.
Also, the average salary of a cloud architect in India is Rs. 21 Lakhs annually, according to Glassdoor. A certification unlocks the door to work with tech giants like Amazon, Capgemini, TCS, etc., to help clients streamline their application services.
Benefits of Pursuing Cloud Computing Course
Apart from the higher salaries, let us discuss the benefits of choosing cloud computing as an employee career. If you still have questions about whether cloud computing is a viable career path, this section will address them.
1. Wide adoption of cloud services
One of the first reasons to choose cloud computing career paths is that all major companies, big or small, are adopting the technology to reduce their costs and provide a better customer experience. As more and more companies are migrating and investing heavily in the cloud, it is the right time to learn the core skills and revolutionize how businesses conduct their operations.
2. Recession-proof career
Currently, there are many job and pay cuts in the IT sector worldwide. A certification course online in cloud computing will set you apart from the competition and help you provide job security in the organization. Experts in the cloud are invaluable to a company's expansion, and employers are always glad to have them on staff.
3. Various jobs in cloud computing
Choosing a cloud computing career path can open the door to various operations, administration, artificial intelligence, architecture, and more. Cloud computing online courses can help you become an expert in cloud platforms like AWS, Google, and Azure.
In addition to managing infrastructure, the skillset of a cloud computing specialist also includes network administration, security, data protection, and disaster recovery. Working in cloud computing will allow you to get experience with cutting-edge tools, expand your knowledge, and hone your skills.
4. Flexibility
Cloud professionals can work from anywhere in the world. It will give you the freedom and independence to work on new projects and access resources and tools at your convenience. It also allows you to offer consulting services, start your own business, provide cloud solutions to multiple clients, and maintain their infrastructure in this rapidly changing field.
Advantages of Hiring Certified Cloud Computing Professionals
Speaking of organizations, let us explore some benefits of hiring certified cloud experts in AWS, Azure, or Google.
1. Less impact on the environment
As the cloud refers to remote servers, physical infrastructure is unnecessary for setting up data centers. As a result, the power consumption is far less, and the overhead charges of operational and electricity costs are minimized.
2. Lower downtime
If you hire a technically skilled professional to handle the cloud infrastructure, migrating from traditional servers is much quicker and more efficient. It does not affect ongoing business continuity; you can access files, documents, and emails anytime.
3. Affordable & Flexible
Businesses may save money on network upkeep by using cloud consulting services. A fully staffed IT department might be overkill for a smaller or medium firm. You may save hundreds of dollars a year by outsourcing these tasks. The company can understand its IT budget and spend accordingly on private and public clouds.
4. Collaboration with teams
Hiring a certified professional with a background in cloud computing courses online facilitates quick communication between the teams. It also increases the productivity and speed of the employees. A cloud-based workflow and file-sharing software in the cloud may let your distributed team work together effectively.
Conclusion
We are sure we have answered your query: Is cloud computing a good career choice?
Cloud computing offers job security, so upskilling with a certification course online will help you increase your chances of getting paid more and offer reliable solutions to organizations. It is a game changer for employees and employers alike. So, embrace the cloud computing free courses online and utilize the opportunities in your favor in this ever-evolving digital world.