An Introduction to Poker Club by Ripstone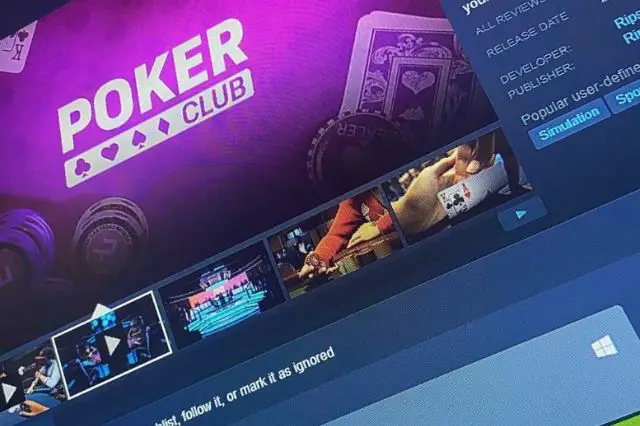 Recent years have seen developers producing ever more sophisticated and immersive poker games on platforms like PlayStation, Xbox, and Steam. Prominence Poker is the most noteworthy example, but Ripstone's Poker Club shouldn't be overlooked as an alternative. It is among the most impressive developments we've seen in poker simulation and represents a close correlation to living the life of a pro poker player.

Below, we'll cover more about how to play and enjoy this often overlooked but extremely satisfying poker game.
Where can you play?
With so many sophisticated platforms available and so much interconnectivity between them today, games are easier to access than ever before. Indeed, they may soon be even easier to access, as GamesRadar projects that the advent of 5G will lead to more video game streaming (which would enable cross-platform play). Poker Club is already a thoroughly modern example with regard to accessibility, however, as it can be downloaded and played on any of the following game systems or platforms:
PC
Steam
PlayStation 4
PlayStation 5
XBOX SERIES X
XBOX ONE
Nintendo Switch
What type of poker is in the game?
While there are many different types of poker, the variation played in Poker Club is also the most popular one: Texas Hold'em. The Texas Hold'em variety is easy enough to get the hang of, even for those who may have somehow avoided it all these years. In this game, each player is dealt two cards, and five additional cards are laid out on the table by the dealer (over the course of three rounds). The cards on the table are called community cards, and each player ultimately tries to form the best five-card poker hand using their own two cards and any three of the community ones.
That's basically it! The rest of it is placing bets in between rounds (once after player cards are dealt, once after the first three community cards are dealt, and then again after the fourth and then fifth community cards are shown). Once all the cards are out and the last round of betting has taken place, players who haven't folded show their cards.
What separates Poker Club from other poker games?
Poker Club is not like other games. It is an immersive gaming experience that gives players a taste of what it would be like to live the life of a professional poker player. The level of poker simulation is virtually unparalleled, as well-designed environments, player avatars, and sharp gameplay give you the feeling like you are really at a table sitting with dealers and opponents.
The character customization is a lot of fun as well, offering many choices for different types of clothing (like cool leather jackets, a relaxing tee shirt, or a classy suit and tie). Of course, a fashionable ensemble at the table wouldn't be complete without accessories, like a watch, bracelet or cool sunglasses –– all of which are available for your selection as well. Basically, you can use your imagination to craft your own ideal embodiment of the perfect poker pro.
It's also worth noting that this is an exceptional 3D-modeled game with UltraHD 4K visuals that are simply sharper than what you find in most any other poker experience. Nothing looks quite as good.
What formats are involved?
Poker Club offers those who want to test their skills a chance to raise their game and compete in over 10 Texas Hold'em tournament modes including freeze-outs, shootouts, super-turbos, bounties and more. That said, if you don't want to compete, you can also link up with other players in the Poker Club community and play more casual games.
For those who want to get really creative, it's even possible to create a personalized game with your own rules. Each table can accommodate up to six players, so you can invite your friends to play according to your rules (within reason). And if you don't want to play with anyone, you can also play against bots and practice your strategies solo. Any way you look at it, you'll have easy access to an active poker community and plenty of playing options any time you pull up Poker Club.
Poker has always been an awesome game, and every year developers come out with new ways to play. This can make it hard to find the real gems in the genre, but Poker Club is one of them. For those seeking an active community, a sense of immersion, and pure, quality poker, it's well worth a look.
For other articles like this around the online gaming industry, but sure to check out of lifestyle section here at Greenopolis.