The 8 Best Fifth-Anniversary Gifts for Your Gorgeous Wife in 2022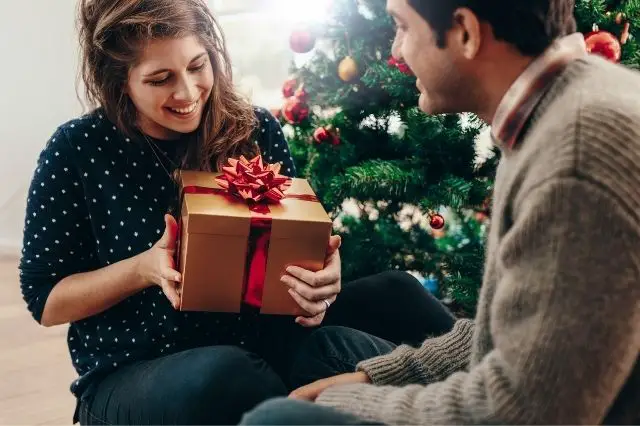 Congratulations on five years! With half a decade behind you and a lifetime ahead of you, it's time to celebrate—which usually includes a unique present. According to anniversary gift-giving norms, the typical fifth-anniversary gift is made of wood. However, flatware and sapphire jewelry are now considered customary gifts to honor five years of marriage. But don't limit yourself to those materials and items: Celebrate in whatever way and with whatever you want! If you're looking for ideas, we've compiled a list of fifth-anniversary gifts to get you started.
Whether you're shopping for your spouse or celebrating a close friend's anniversary, each of these beautiful gifts is sure to satisfy (and maybe even result in a happy tear or two). Consider a pair of sapphire earrings or a wooden remembrance box that may be customized. Instead of the usual wedding gifts, you could get things like custom wedding photo albums, dinners for two that are delivered, and more.
Embroidered Handkerchief
Handkerchiefs can be customized to convey a message that will be cherished for a very long time, and giving your wife monogrammed handkerchiefs will be more valuable to her than commonly available store-bought presents. The name of the day you first met, the name of a memorable place you visited together, or the name of the life event you cherish most can all be embroidered to make it more romantic. To add a touch of sophistication and elegance while serving as a useful tool for wiping away tears and perspiration, choose a fabric or design that can be used for significant occasions like weddings or anniversaries. This is a truly thoughtful and practical gift for any woman.
Custom Song Lyric Print by Blim and Blum
Make a piece of wall art out of the lyrics to your favorite song. Choose words from your wedding song to be shown as a vinyl record with the title and artist, as well as a special personalized message.
Inventive Voiceprint Wall Art with Soundwaves
What a fantastic idea! With this one-of-a-kind present, you can turn a voice message or your first dance music into a piece of wall art. Simply send in your favorite song, audio, or video file, and those unique sound waves will be printed directly on a 34″ thick piece of birchwood with mounting screws. You can personalize the print with a specific message, initials, names, or dates to make it a truly unique present.
Boutique Heritage Engraved Cutting Board
Look to this handmade cutting board for an anniversary gift that will earn a place of respect on the couple's counter. It's made of your choice of natural wood (cherry, walnut, or oak) and contains unique hues, patterns, and natural knots, making it both utilitarian and beautiful.
Each design can be personalized with the couple's first or last names as well as their wedding date. The piece is then treated with hot mineral oil to keep it shiny for many more anniversaries to come.
Star Map Wall Decor for Our Love Was Born
How did the stars look on the night you said "I do?" To commemorate the occasion, these star maps can be personalized by location and date. Use a wooden frame to stick with the usual fifth-anniversary theme.
Deep Blue Venus et Fleur Classic Collection
Flowers aren't the conventional fifth-anniversary gift, but they're appropriate for almost any occasion—including this one—especially when they're sapphire blue. Blooms from Venus et Fleur come in a range of colors and are produced and treated with non-toxic wax and natural oils to last a year or more. The roses will stay full and beautiful until your sixth anniversary because they are in a box that looks like a Parisian hat.
Shelly Klein Personalized Beach Family Puzzle
This entertaining gift can be customized with your lookalikes in a variety of ways, from a puzzle to an art piece. Include your dogs or children as well. Once you've completed it, hang it on the wall as a special remembrance.
Ring with Baguette Cut Diamonds
On this memorable anniversary, surprise your spouse with a gorgeous baguette diamond ring. This small pretty ring features a 14K White Gold Emerald and Baguette Diamond and is almost certain to be treasured. A diamond ring is a symbol of everlasting love and dedication to one another. That message is combined with natural beauty in Baguette Cut Diamond rings.
Crate & Barrel 2-in-1 Bean Bag Toss
Another one-of-a-kind wooden present, this one will add to the fun of at-home dates and backyard barbecues. This set, made of pine and plywood, has two games in one, the first of which is a standard bean bag toss.
Simply flip the board over to play tic-tac-toe with the Xs and Os-marked bean bags when you're ready to switch things up. And the fact that those Xs and Os can be construed as hugs and kisses is not lost on us!