6 Cool Ways to Manage Office Stationery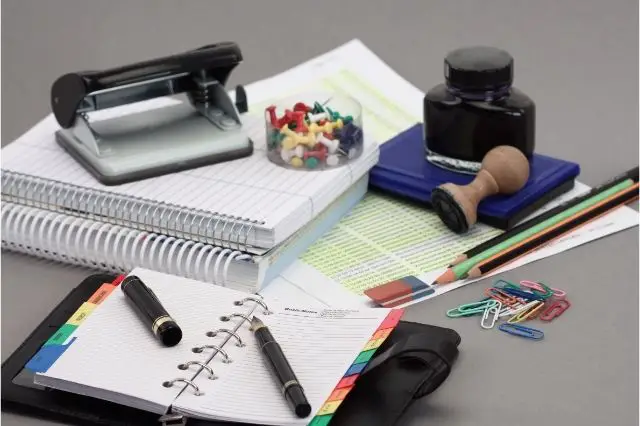 Your office stationery is a very important part of your professional and branding image. Did you know that the office supplies market in Australia is at $11.1 billion, even after a 1.2% fall?
While the right kind of supplies can make your desk look clean and crisp, if you place or manage them in a disorderly fashion, it can end up badly. The amount of office stationery used should be monitored properly to reduce any risks of misunderstanding or misuse of your office logo.
1. Educate your employees
The first thing to do here is to educate your employees regarding when and how to use the office supplies. They should use these supplies when absolutely necessary, and not otherwise.
Unnecessary use of office paper leads to wastage which negatively affects the environment. Discourage your employees from using these items for their personal work. Things like memo pads, papers, envelopes should only be used when the work is related to the office.
If you see them using too much paper, you can encourage digital communication by giving each employee a graphic file of the company logo and a word document template.
2. Alternative supplies
If customization costs too much, you can look for other alternatives. Provide plain envelopes, paper, or sticky notes for use.
You can even create stationery on-demand in Word or any other similar processing program. Use headers and footers to insert your company logo. Make sure you load your printer with the appropriate type of paper.
For the best deals in printers, laminating machines, or other office stationery, check out officechoice.com.au. It gives you a huge range of choices, starting right from papers to other desk accessories, and maintains the first-class quality of each and every product.
3. Limit access to supplies
Managing an inventory might sound easy but is a lot more difficulty in reality. There are a few basic things you need to keep in mind while limiting office stationery supplies.
First, appoint a gatekeeper. This person is supposed to be in charge of the supplies room. Anyone who requires any stationery from the room needs to talk to the gatekeeper first.
Secondly, you can limit access to the room by putting a padlock or a password. This works well if there's nobody to be appointed a gatekeeper. The group of people with access to the key or password should be very small and trustworthy. These people can distribute the supplies to others if necessary.
4. Create a log
One of the most effective methods of managing office stationery is by creating a logbook. This book is to be filled by everyone who uses the stationery and should be kept safely in the supply room.
Employees must write down what they take from the room, how much they have taken, and when they take it. While this is a relatively simple method, it relies on the honor system. Any employee might forget to write down on the logbook or not write on purpose.
5. Organize what you have
Once you limit the access to the supply room, it's time to organize whatever you have inside it. Make it easier for employees to find what they need by grouping similar supply items together.
For example, papers can be stacked on one shelf, and the shelf next to that can have paper clips and thumbtacks. Place items most frequently used at an eye level for easier access. If you see a particular item not being used at all, don't order it the next time. Keep this room as neat as possible.
A messy room can make it very difficult to find the supplies and hamper the quality too. If the room is large, you can even put up a map or list explaining where each type of item is.
6. Use first, order more later
Instead of ordering too much, ask others to first use whatever is in store. Then if the product runs out, order more of it. Items like unused paper turn yellow, toner runs dry, and pens stop working. So it causes a huge waste of money and resources.
Over to you…
These were some of the tricks to manage your office stationery effectively. The most important thing is to not waste any item and make good use of whatever is available. Once you start working on this, the rest will be much simpler to follow.