6 Creative Ideas for Personalizing Your Wedding Website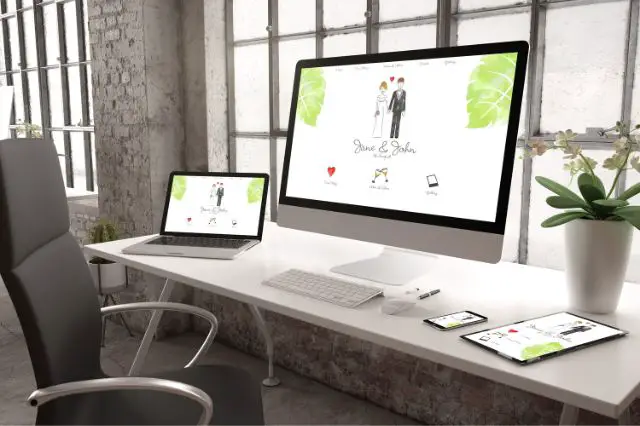 Your wedding website is so much more than just a place to list your registry information. It's an opportunity to give guests a glimpse into your relationship, tell your love story, and get everyone excited for the big day. With a few creative touches, you can make your site reflective of who you are as a couple. Here are six fun ideas for personalizing your wedding website.
1. Choose a Custom Domain Name
Your domain name sets the tone for your whole site. Steer clear of the boring "JohnAndJane2024.com" and get creative! Incorporate your names, wedding date, or a clever phrase like "TyingTheSimpsonKnot.com". Look for available domains from sites like GoDaddy or Google Domains, where you can search and purchase custom URLs. Just be sure whatever you choose is short, easy to remember and spell.
2. Design a Custom Monogram
A monogram is a classic way to infuse personality into your wedding aesthetic. Create a digital monogram incorporating your first initials using an online design tool like Canva. Use it as part of your site header or repeat it as a graphic element throughout the pages. Get inspired by searching monogram templates or come up with your own unique interlocked letters.
3. Share Your Love Story
Your site is the perfect medium for regaling guests with the tale of how you met, fell in love, and got engaged. Tell it in short paragraphs or bullet points under a page titled "Our Love Story." Or share it interactively with a scrolling timeline using your wedding website builder's blog tool. Photos or videos of you as a couple add a personal touch.
4. Spotlight Your Engagement Photos
Chances are, you have gorgeous professional engagement photos you're dying to show off. Your website is the ideal place to display this photoshoot! Create a landing page featuring your favorite images or include a photo gallery. Write captions explaining where the photos were taken or recalling fun memories from the day. Look for websites that have sample wedding websites for more creative ideas.
5. Curate Special Music Playlists
Music is integral to setting the mood for any wedding. Share some of your favorite songs and artists with guests by embedding playlists on your site. Spotify makes it easy to create and share playlists for any vibe, like romantic ceremony songs or lively cocktail hour tunes. You could even have a couple of playlists picked out for guests to vote on!
6. Give Sneak Peeks of the Big Day
Build excitement leading up to the wedding by using your website to give sneak peeks of what's to come. Post sample photos of your decor, invite suite, wedding cake or attire details. Share in-progress DIY projects or venue photos if you're comfortable showing the location in advance. Just be careful not to give everything away too soon!
Some additional ideas include sharing childhood photos of yourselves, wedding planning timelines or countdowns, travel information if guests will be coming from out of town, and bios and photos of your wedding party members so guests can get to know them in advance. You could even have a poll or interactive Q&A section where guests can submit questions before the wedding. Make your site as comprehensive as possible so it serves as the main hub for all wedding info your guests will need.
The possibilities are endless when it comes to putting your stamp on your wedding website. Just keep things on-brand with your wedding vision and use colors, fonts, photos and details that authentically represent you as a couple. With these personalized touches, your wedding website will be almost as unique as the love you're celebrating!