WFH Meet Your New Rival: WWT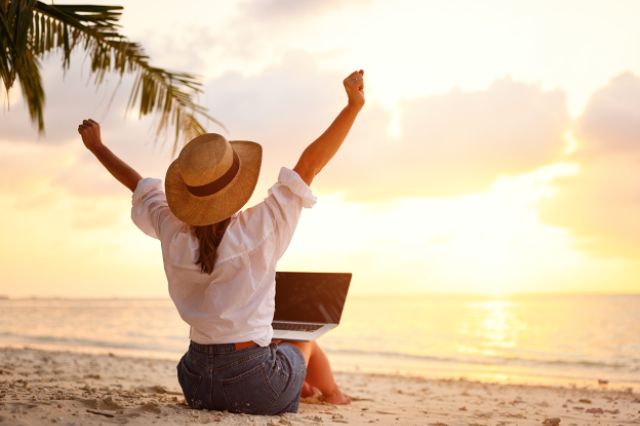 WFH is so 2020… The new norm is WWT. And rightly so, because everyone's always on the go, sometimes too busy to stop and enjoy life. We want everything now. Actually, we want everything yesterday!
Even our hobbies need to be readily available, otherwise even relaxing is seen as a waste of time. Say we want to play online games on our phone, our reflex is to pick instant play casinos, because there's no need to download, which means less hassle, and no fuss.
Thanks to rapidly changing technology, traditional notions of work are constantly being redefined, bringing forth countless opportunities to broaden workers' horizons. That's right, gone are the days when the only way to work was to be chained to a desk. With the idea of the 9-to-5 office grind slowly fading away, the magic of remote working has started to blossom, offering workers flexibility like never before.
It's not just about trading your desk for pajamas; it's an open invitation to combine your love of traveling with your work obligations. Imagine brainstorming ideas on a beach in Bali or sending emails from a rainforest in Costa Rica. It's time to take advantage of your newly found freedom and discover how to best navigate these unchartered waters.
Make a Plan
As appealing as living like a digital nomad sounds, it doesn't just happen from one day to the next. So before you go ahead and book the first cheap flights you find, you need to formulate a plan. First things first, it's important to keep in mind that the novelty of a new destination can impact your ability to focus. As such, if you don't prepare beforehand, you might not be able to use your time efficiently.
Check your company's remote working policy to see what's expected of you, like the number of hours you need to clock in and how often you will need to touch base, as these factors may impact your traveling schedule. Knowing this ahead of your departure will allow you to accommodate what is required of you and see just how flexible your remote work actually is. If your company still requires you to work 9–5, then you might want to keep your country's time zone in mind, as you might end up logging on for a meeting at 1 am.
It is also important to set boundaries before you leave to ensure you maintain a healthy work-life balance. Let your co-workers know before you depart what times they can reach you so you will know when you can unplug and recharge, as at the end of the day, what's the point of work travel if you can't let your hair down after a long day?
Find Potential a Workspace
Just because you can take your laptop anywhere, doesn't mean you should. Depending on the type of work you need to carry out on a daily basis, you need to find a workspace that best suits your needs and preferences, without any unnecessary distractions. This means that going to a local cafe every day and working from a tiny table, simply won't cut it. Try to conduct some research by reading up on the area you are planning on traveling to. Check to see if there is an already established digital nomad community and follow their recommendations for the best places to work.
You want to find a place that inspires you but it also practical as you need to ensure that you continue to perform outside of the office. Parks and pavilions might sound like dreamy locations brewing with inspiration but their internet connection might be a bit choppy, making them not very ideal for productivity. We suggest checking to see whether the town you are staying in has a co-working space, which will allow you to meet like-minded individuals and not fight for a free outlet.
Backup Your Internet Supply
One of the only reasons being a digital nomad is feasible is because of the internet's ability to connect us to anyone we want, anywhere in the world. As such, it is essential that you ensure you have a good internet connection wherever you go, especially if your work involves a lot of video calls. While you cannot control the Wi-Fi connection wherever you stay, you can take the appropriate measures to ensure you always have a backup plan. This can mean getting an international phone plan, using your device as a hotspot, or investing in a portable Wi-Fi device. Unfortunately a strong internet connection is a non-negotiable if you want to live out your fantasy of working from a beach, make sure to take note.