Where to Find Budget-Friendly Outdoor Kitchen Appliances?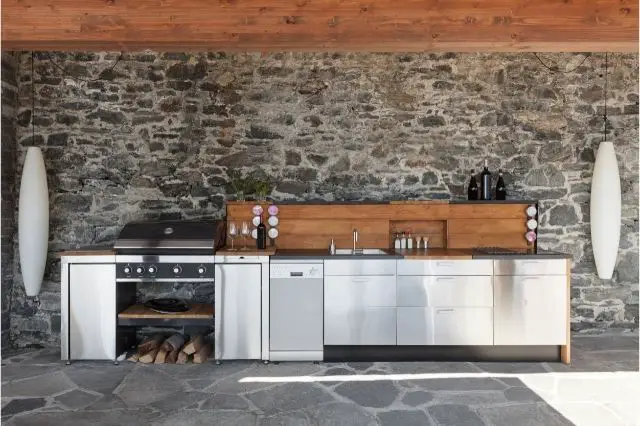 Homeowners often begin designing an outdoor kitchen without establishing a budget. Once the plan is in place, they start the hunt for the materials to turn their dream into a reality only to quickly be disappointed when they realize they cannot afford the plan as created. Rather than scrapping the plan, a homeowner needs to scale back. Fortunately, they can have an outdoor kitchen they love at an affordable price. How can they achieve this goal? 
What Not to Do
First, make safety a priority. Never use combustible materials when constructing an outdoor kitchen. Furthermore, when budgeting for an outdoor kitchen, ensure there is ample counter space. People must have space to work without encountering a grill or other hot surfaces. With these two guidelines in mind, it's time to begin creating a kitchen you love and want to use regularly while remaining within your budget. 
Know When to Spend
Property owners need to spend money on a quality grill while remaining within the budget. Sadly, people often choose a low-cost model to spend more on other areas of the outdoor kitchen only to find they must upgrade in very little time. Experts recommend investing in a stainless steel grill made of 304-grade stainless steel or better. This reduces the risk of rust ruining the grill. 
Fuel Source
Propane serves as the best fuel source for an outdoor kitchen. This ensures the cook has fuel when needed without having to spend money to run gas or electricity to cooking appliances. This one tip saves homeowners significant amounts of money while allowing them to have the outdoor kitchen of their dreams. 
Recycled Materials
Consider buying recycled materials rather than new ones to save money on your new kitchen. Salvage yards and reuse-it centers serve as excellent sources for these materials, or a person might find a shop that sells new building materials rejected by buyers. For instance, a person might find the perfect stone countertop for their kitchen and get it for a great price because someone else decided they didn't like or want it. This serves as an outstanding way to get outdoor kitchen appliances that still have life in them. 
Modular Components
Save money by purchasing modular components. This allows mixing and matching items that meet your needs while remaining within the established budget. Weather-resistant accessories are important when creating a gorgeous kitchen you'll love. By choosing modular components, a person finds they can upgrade the appliances and remain within budget. 
Furnishings
If purchasing metal furnishings, look for items with a 15-year warranty and purchase from a furniture manufacturer as opposed to a big-box store. By purchasing from a specialty retailer, a person knows where to turn if a piece needs repair in the future. 
Coverings
Homeowners may want a covered area where people can congregate without being exposed to the sun, wind, and rain. However, including this awning or roof adds to the expense of the kitchen. Consider using umbrellas to achieve this goal when first constructing the kitchen. Pay attention to where people tend to gather and add a permanent covering over that area in the future. 
Conclusion
Regardless of what elements are chosen for the outdoor kitchen, make the foundation the priority. Spend more in this area and ensure it is solid. By doing so, homeowners can make upgrades or changes in the future without having to fortify the foundation. By creating a strong base for all elements of the kitchen, a homeowner finds they can remain within budget, start small, and add items over time to have a kitchen they love and that others admire.