The Best Luxury Golf Shoes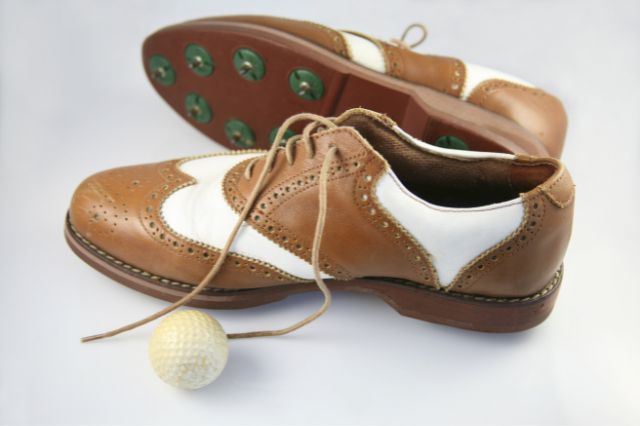 While you can find excellent golf shoes for all budgets, the very best golfing shoes in 2023 that feature superior styling, performance benefits, or a combination of both, typically sit at the more premium end of the market. However higher price points do not necessarily mean less value for money, and when it comes to key pieces of equipment such as shoes, we think the best models justify the extra investment. 
A quality golf shoe is made to last, and golfers playing weekly should expect to get a minimum of two years of wear, meaning that cost per wear is actually very reasonable, even at this premium end of the market.
So, if you fancy a pair of shoes crafted from the finest leather, or packed with the cutting-edge technological innovations, take a look at our hand-picked models below to offer some inspiration.
Ecco Biom G5 Golf Shoes – $270 / £220 RRP
As the originators and kings of spikeless shoes, Ecco don't make many spiked models, but when they do, they're exceptional. Taking inspiration from the brilliant spikeless Biom H4, the Danish shoe giant brings fashion to the Biom family with their G5 model featuring a premium leather upper and Gore-Tex membrane to ensure the model is both breathable and 100% waterproof. As you'd expect for the premium price, this is a very comfortable and supportive golf shoe that offers superb traction. We love the fit, especially in the BOA model.
G/FORE Collection Gallivanter Golf Shoes – $225 / £190 RRP
The Gallivanter is a traditional shoe with a modern twist. The fully waterproof premium full-grain leather upper looks tremendous and is surprisingly easy to keep clean. It's ultra-lightweight sole and non-replaceable cleats are durable and positioned for excellent traction. The 'Comfort System Technology' creates one of the best insoles we've tried, letting air flow to the feet to keep them cool and dry with a triple-dense foam footbed for seriously impressive comfort.
FootJoy Pro SL Golf Shoes – $160 / £160 RRP
One of the most popular premium shoes in golf, the Pro SL has an OrthoLite 'fitbed' designed to mold to your feet for the perfect fit. A StratoFoam midsole takes the Pro SL to new levels of comfort. It provides softer cushioning from heel to toe over its predecessor and cushioning and makes walking 18 a breeze. As for the upper, FootJoy's ChromoSkin leather is just about as good as it gets. It looks great, holds its shape, cleans easily, and is fully waterproof.
Duca Del Cosma Churchill Golf Shoes – $239 / £200 RRP
Churchill is one of our favorites. It's easy to see classic-style shoes and assume they will be hard-wearing or uncomfortable, but the Churchill is a delight for the feet. The finest Italian Nappa leather upper is joined to Duca Del Cosma's Airplay XI outsole to give you a shoe that fits beautifully and looks great on or off the course. Square-shaped nubs are strategically placed around the bottom of the shoe to give you maximum grip and stability when swinging.
How to Choose Golf Shoes
Luxury can mean lots of things to different people, but ultimately luxury speaks to high-quality and being fit for purpose. We recommend you bear the following considerations in mind when selecting your dream pair of golf shoes:
Performance – Without question, you should not be spending a pretty penny unless the model is up to the task. Looks are one thing, but if the shoe does not provide you with exceptional levels of comfort and stability, then it does not justify the price tag. Make sure you try it on for size and ideally hit some balls in them first.
Material – Any shoes retailing north of $150/£150 should be constructed with the highest quality performance materials available to the manufacturer. You should ensure the shoe is 100% waterproof and breathable, irrespective of whether you are opting for a more traditional shoe or one with a more modern twist.
Value – Just because you are willing to invest in a pair of golf shoes with a premium price tag, doesn't mean you still can't find a bargain. Once you've settled on the luxury model of your golfing dreams, spend some time digging around to ensure you find them at the best possible price. Also, you may find brands drop the price of certain premium models if they have recently released a newer iteration.