A Closer Look at Employment Opportunities for Software Engineers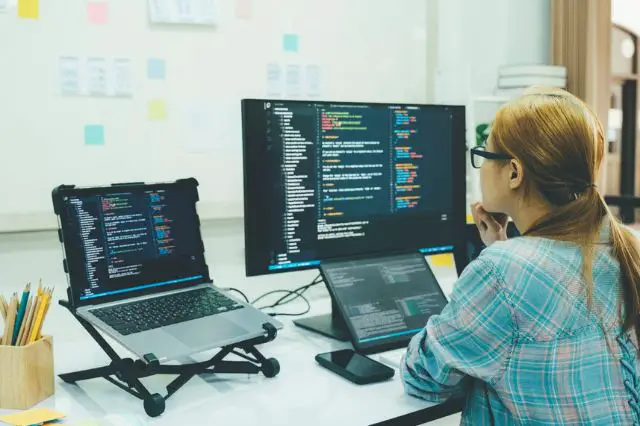 Software engineering is a rapidly growing and in-demand profession, with job opportunities projected to grow by 25% through 2031, according to the Bureau of Labor Statistics. In this article, we will discuss the various specializations within software engineering, job prospects in cutting-edge fields, key industries that are hiring software engineers and how aspiring software engineers can set themselves apart in the job market. In addition to exploring these topics, this article will also look at certifications and other important factors for success as a software engineer.
Specializations within software engineering
Niching down and becoming an expert in a specific area can be a great idea for software engineers, which you can do through an online master's program such as the one offered by Baylor University. There are many books for engineers that mention what specialties to focus on, but the first one we're going to talk about is application development. Software engineers who specialize in application development build applications that are used to support the needs of businesses or other organizations, such as customer relationship management (CRM) systems. They must understand the requirements of their clients and create code that meets those needs efficiently and effectively. This requires knowledge of multiple programming languages, databases, network protocols, operating systems, frameworks and platforms.
Unsurprisingly, given how many people live on their phones, mobile app development is another area of specialty. Developers are responsible for creating applications specifically designed for mobile devices such as smartphones or tablets on either the Android or iOS platform. A strong background in UI/UX design is essential since there is a lot of competing demand for the attention of users, and your apps must be easy to use and understand.
The last specialty we're going to touch on in this article is cybersecurity. As technology advances, so do cyber threats, which means the demand for experienced security professionals will grow. Security specialists must have extensive knowledge of current security standards alongside deep technical proficiency across multiple domains, including things like networking, cryptography, malware analysis and reverse engineering. They must also stay up to date with the new techniques of malicious actors, as they can be very creative.
Job prospects in cutting-edge fields
In the same way that there are types of development that software engineers can specialize in, there are also a number of growing fields with new technology that offer exciting opportunities. One trending field is artificial intelligence, essentially a form of computer science that enables machines to think like humans. They can observe data from their environment and make decisions on their own or with very little human input. Similarly, machine learning takes this further by allowing computers to learn from their mistakes as they process data. This has led to breakthroughs in areas including medical research, transportation systems and image recognition software.
The Internet of Things (IoT) is another growing area that combines physical objects with software applications that enables these devices to communicate over networks. In a practical sense, this means things like automatically turning the lights on or off in your house or monitoring your home security system. Engineers who understand how these protocols work will be needed more and more as companies continue investing into products that make homes smarter.
One other emerging industry is robotics and automation. Robots have been around for almost 80 years; however, big strides have been made in the last decade, particularly around their vision capabilities and their dexterity. In fact, these robots can now move accurately between different points autonomously without any human interference required. Automating these software development processes requires expert engineering knowledge, so those proficient at coding robotic arms or creating algorithms specifically designed for things like autonomous vehicles could find themselves extremely high in demand in their careers.
Key industries hiring software engineers
We've already spoken about software engineering specialties as well as some emerging technologies, but now we're going to talk about a few specific industries where software engineers are in high demand. Rather than talking about the obvious – software development companies – we're going to look at three industries that are heavily reliant on good software engineering.
Although they may have taken longer to adapt to the needs of modern consumers than some other industries, financial services firms rely heavily on software engineering expertise to create secure applications. This could be anything from enabling customers to send or receive money, pay their bills or apply for credit cards or home loans. To be successful in this industry, you should have strong technical skills as well as an understanding of the many varied regulations and laws financial companies must follow.
Healthcare organizations also require highly specialized systems to process patient data securely – and much like financial services, they have laws and regulations they must comply with. Healthcare is obviously extremely important to everybody, and given how imperative it is to protect patient data, software engineering jobs in this industry will continue to rise.
An area you may not have considered is aerospace and defense. Aerospace manufacturing firms need employees who can design robust embedded control systems capable of controlling complex aircraft within tight safety specifications at any given moment. To be successful, extensive expertise in aeronautical engineering is required, combined with hardware design principles related to things like avionics or flight control system.
Setting yourself apart in the job market
The first way to set yourself apart in the job market is to ensure that you have the necessary technical skills for your chosen field of engineering. This includes having a thorough knowledge of programming languages, frameworks and tools related to your area of interest. Demonstrating proficiency in these key elements will give employers confidence that you can do the job well.
Soft skills such as problem-solving ability, clear communication with others (both verbal and written), teamwork aptitude and initiative are essential qualities sought out by employers when hiring engineers. You must be able to handle complex tasks but also work well with clients and your colleagues.
You should also possess domain-specific knowledge to help set yourself apart from other candidates. This can be achieved by gaining experience through things like internships and group project work, as well as attending networking events or conferences in your chosen field.
The world of software engineering will continue to evolve, so young engineers must also focus on evolving throughout their careers. By staying flexible and curious and working hard, you will have a long and fulfilling software engineering future ahead of you.