8 Effective Ways to Redesign Small Bathrooms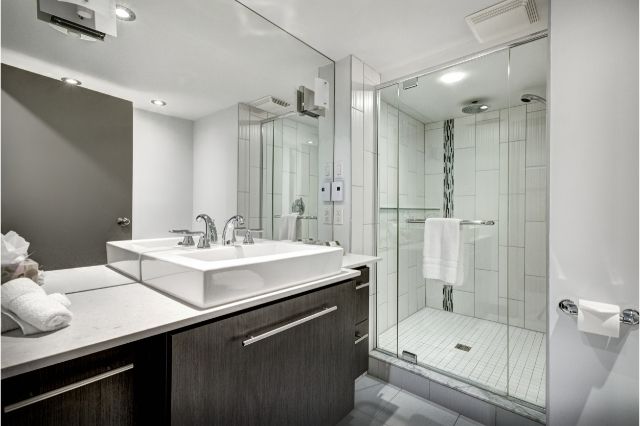 Probably the most important room in any house is its bathroom. No matter how beautiful your bedroom or living room is, if your bathroom isn't comfortable or clean, the entire house seems clammy.
But having a small bathroom can be slightly problematic, especially when it comes to the design and architecture. You have to fit a number of necessary things there- starting from the toilet seat to a washbasin.
But does this mean your small bathroom can't be decorated beautifully? Absolutely not! With the right kind of tools and ideas, your bathroom can look like the prettiest room in the entire house. Read on to know some effective ways of redesigning your small bathroom.
1. Keep the Colors Light
It is a rule of thumb that light colors make a room seem bigger whereas dark colors make it look smaller. Naturally, for a small bathroom, keeping the shades light will be ideal.
A soft mint green hue will reflect light from the bathroom window and light up the entire bathroom. Even the curtains you use for the shower should be of a relatively light shade to make the bathroom look open.
2. Double Down on the Dark Color
If you're not a big fan of light colors, you can work with dark colors too. For this, paint your room a shade of pitch black (sounds strange, but the end result is worth it).
It will give depth to the bathroom and create an illusion of a larger space. You can also go with high gloss in a super dark color. This will help to bounce off the lights from the bulbs or lamps.
3. Mirroring a Wall
Instead of putting a small mirror above the sink, try mirroring an entire wall. The reflection of light and wall patterns will enhance the entire look. Having a large mirror will also be useful for you and look very classy.
4. Glass Shower Door
For the shower section of the bathroom, you can go for glass doors to make the bathroom appear larger than what it actually is. Scrap the curtains entirely and replace them with glass doors.
5. Go for the No-shower-door Look
If you are the more adventurous type, you can let go of the glass door idea completely. Have an open shower instead to make the bathroom look even bigger.
But in this case, you'll have to install a good drainage system. Or else the water will make a messy puddle and your entire bathroom will look dirty.
6. Tiling
Painting bathroom walls isn't really done much nowadays. Tiles are a much better and more durable option. If you wish to spend slightly more, consider tiling the bathroom from the floors to the walls. Tiles will make the bathroom look stylish and elegant.
Moreover, your bathroom won't get damaged due to the constant contact of the walls with water. Small ceramic tiles are ideal in this case.
Sizes ranging from one-by-four to two-by-four are commonly used as they cost much less and look beautiful.
7. Install a Pocket Door
This is again slightly expensive but also very effective. Instead of installing a regular door, try having a pocket door. This is also a little labor-intensive but the finished result looks amazing.
A pocket door that tucks away into the wall will give you much more space. You can utilize this space for additional storage or keep it as it is. Either way, your bathroom will look bigger and better.
8. Keep the Floor Clear
You can put up a bathroom-friendly carpet or rug on the floor if you like, but other than that, make sure the floor is clear. In a small bathroom, having too many things on the floor creates a cramped look.
Keep the vanity or storage containers on a small pedestal instead. Keeping too many things on the floor can also make you more prone to tripping or bumping against them.
Over to You…
These are some of the unique ways in which you can redesign your small bathroom and make it look minimalist and modern without space being a factor. There are many companies that take care of your bathroom renovations in Melbourne, explore them, and choose your designers and accessories wisely.