8 Ways to Decorate Kids Birthday Party Hall in Style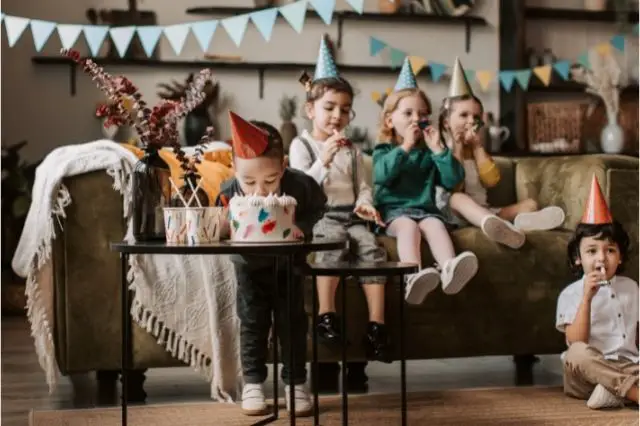 Is it your kid's birthday soon? Are you worried about what style you must incorporate to decorate your kid's birthday party hall? Well, if you're in all this dilemma, it's time you start reading our blog!
We have come up with the best ways to decorate your kids' birthday party hall in absolute style. All these are unique ideas that will amaze your kids and the guests as well! So, please don't waste a minute in checking out what they are!
1. Customized Paper Straws
Well, not everyone would think of this. But you can indeed surprise the kids by attaching pictures of each of the kids on the paper straws. You can make them colorful and innovative with different designs.
Not everyone thinks of it, but we think accessories used in the party can be a great way of decorating your space!
2. Decoration with Ribbons
Use different types of ribbons to decorate your child's party hall. You can go for a one-colored theme or even a multi-colored theme! Any of these ideas will give your party hall a unique look, and your kid is sure to fall in love with the décor anytime. And for that, we would recommend you choose Cherry Ribbon for its unique collection and customization.
3. Pet-Customized Backdrop!
Does your kid love the pet you have at home? Or does he/she want to get home one? Well, for that, you can go for a pet-customized backdrop. It will give the party hall a unique attraction and will also be something that not everyone has at their parties. So, get yourself this fantastic backdrop and see the glee on your child's face.
4. Animal-Shaped Balloons
Everyone thinks of having normal balloons. But what about having a unique look with animal-shaped balloons? So, try getting dinosaur-shaped balloons or some other shaped animal that your kid likes to give your party hall a wonderful look. This is definitely going to outstand every other décor you see.
5. Birthday Milestone Standee
Well, another unique way to decorate your child's birthday party is this one! At the age that your kid has reached, you can have a poster printed with a picture of your kid, put it up on a standee, and place it at the hall entrance! It will indeed give your party a unique and wonderful look.
6. Party Accessories in a Box
Well, why not think of a unique theme of going camping! Your kid will love this look, and we're sure you're going to feel really out of the box with this! Have all the party accessories staked up in a box and give them to each of the kids as soon as they enter.
In fact, you can host a play with this idea! Give your kids the box as soon as they enter, and they are supposed to use all the accessories as the party ends. If they fail to do so, they are supposed to sing a song or dance. Kids are going to enjoy this!
7. Chair Banners
Not everyone will think of such a unique idea. But in this case, you can! Get yourself customized chair banners that you can put up on the chair and make each kid sit. Of course, don't miss out on making the birthday boy or girl one different from the others. And then you can have a huge table set up where the kids can sit in a circle and enjoy their meal.
8. Royal Crown
Another thing that you must not miss out on is this one! It would help if you did not refrain your kid from feeling special. So, get your kid a special crown to make them feel good and different from the rest of their friends.
Final Thoughts
As we come to the end of our blog today, we hope you have all the unique ideas to decorate your kids' birthday party hall in perfect style. All the tips we have given above are great and not something that every parent would think about decorating their kids' birthday party! So, follow these and don't forget to tell us how the party décor turned out to be!