Adding These 8 Things Will Elevate Your Outdoor Space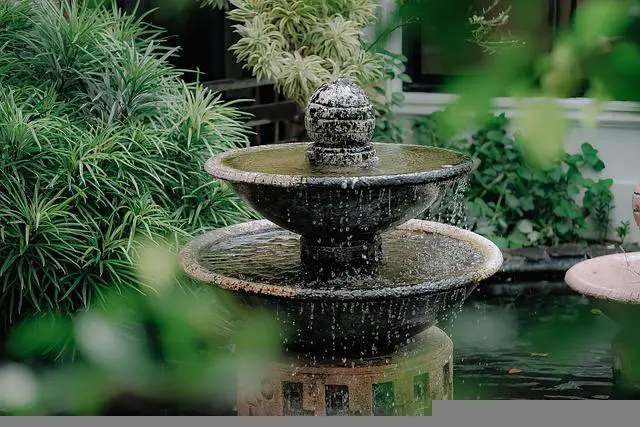 If you're like most people, you probably enjoy spending time outdoors. Whether you like to relax in your backyard or entertain guests on your patio, a well-designed outdoor space can be really enjoyable. If you're looking to elevate your outdoor space, here are some things you need to add!
Water Features
There's nothing better than having a beautiful element with a soothing sound to tie your entire outdoor space together. Modern homeowners know how long a concrete water fountain will last and how much it will add to their backyard appeal along with the value of their home. These features are becoming increasingly popular in recent times.
You'll want to keep a few things in mind when you're planning to install a water feature. The first is that water needs to be able to drain away quickly, so make sure your chosen spot has good drainage.
You'll also need to consider the size of the feature in relation to the rest of your outdoor space. For example, if it's too big, it will overwhelm everything else. And if it's too small,  it might get lost.
A Gazebo
A beautiful summer day is a perfect time to have a picnic in your backyard. But why stop there? Why not elevate your outdoor space by building a gazebo? It is a freestanding structure that can provide shade and shelter from the elements. It's the perfect spot to enjoy an al fresco meal or entertain guests.
Building a gazebo is a relatively simple project that can be completed over a weekend. It's a multipurpose structure that will provide years of enjoyment. So, what are you waiting for? Get started on building your own gazebo today!
If you're not up to a DIY job, some professionals may do it in a day or two, depending on the size and complexity of your gazebo. But building your own is more rewarding, and you'll have the satisfaction of knowing you did it yourself!
Furniture
Having comfortable furniture outdoors makes the space feel more like an extension of your home, rather than just a backyard. You and your guests will be able to relax and enjoy being outside without feeling like you're roughing it. Plus, furniture can help to create distinct areas in your yard, such as a conversation area around a fire pit or a dining area near the grill.
When choosing furniture for your outdoor space, be sure to pick pieces that are weather-resistant. You'll want furniture that can withstand sun, rain, and wind without fading or falling apart. Outdoor furniture can be expensive, so it's worth investing in pieces that will last for years to come.
Trees
Trees can help you create natural shades while adding color and beauty to your outdoor space. Plant them as part of your landscape design to increase property value, reduce cooling costs in summer, and provide a stunning backdrop for your home or business.
When selecting trees for planting, be sure to consider the mature size of the tree and its potential impact on surrounding structures. Also take into account the amount of light and water the tree will need, as well as its resistance to pests and disease.
The most popular choices for backyard trees are the following:
Fruit trees: apple, pear, peach, plum, and cherry trees are all suitable for planting in most regions of the United States.
Flowering trees: these include trees such as the dogwood, magnolia, and redbud.
Shade trees: perfect for creating a cool and comfortable environment in your backyard, shade trees include species such as maple, oak, and elm.
Once you pick them, make sure to do your homework, so you know how to care for them.
Planters
Carefully distributing planters around your outdoor space is a great way to elevate the look of your yard without breaking the bank. Planters come in all shapes and sizes, so you can find ones that fit both your budget and your aesthetic.
You can use all kinds of plants and flowers for planters, from annuals to perennials. You can also get creative with the planters themselves by repurposing old containers or painting them to match your home's exterior.
No matter what route you go, planters are a simple and effective way to add some extra pizazz to your yard.
A Fire Pit
A fire pit can add a lot of life to an outdoor space. It can provide a place to gather around and enjoy the outdoors, even on cooler evenings. This is a simple project that you can easily do yourself.
Make sure the design matches the rest of your outdoor area. You don't want it to be an eyesore. For example, a classic brick fire pit would look out of place in a rustic setting. Before you start, check with your local building codes to see if there are any regulations you need to follow.
This will make sure you can keep warm around it with friends and family while blending in with the surroundings.
A Cookout Area
Cookouts are among the most popular summertime activities. They're a great way to enjoy the outdoors and spend time with family and friends. Having one in your backyard can ensure that you're always prepared for a party. Plus, it can be a great way to elevate your outdoor space.
For example, a cookout area can include a grill, a picnic table, and a fire pit. It's a great way to make use of your outdoor space and get the most out of it. Not to mention, it can be a great place to relax and enjoy the summer weather.
Outdoor Lights
If you want to enjoy your outdoor area at night as well, you should install outdoor lights. This way you can create a special atmosphere and make the most of your outdoor space. There are different types of outdoor lights available, so you can choose the ones that best suit your needs.
Many people choose string lights because they are very versatile. You can use them to create different shapes and patterns. If you want something more permanent, you can choose outdoor wall lights or outdoor floor lights. These are more expensive, but they will last longer.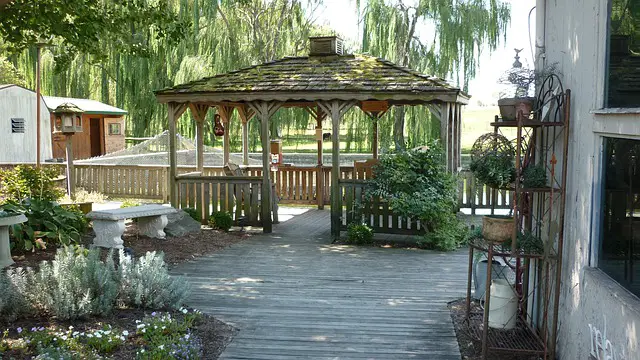 Having a perfect outdoor space is essential for your enjoyment and for impressing everyone stepping into it. A calming water feature should always be welcome, and a gazebo can make a cool hangout area. Add trees for shade and planters to keep the flowers healthy. Make sure to buy some matching furniture along with a beautiful fire pit to sit around. You should also consider a cookout area, and don't forget about outdoor lighting!