7 Benefits of Carrying a Handbag You Cannot Imagine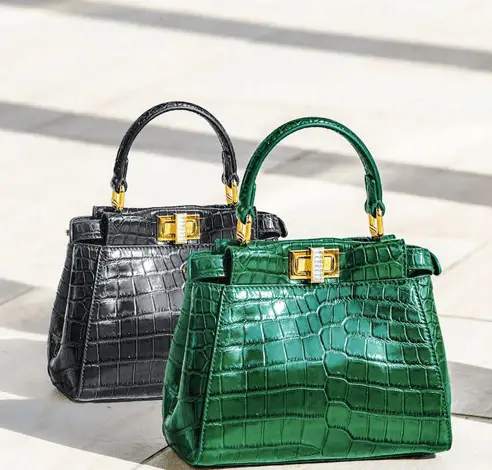 Carrying around a handbag is more than just an accessory. It can be beneficial in ways you might not expect, from making you look more professional to helping you save money looking.
Handbags can also be used as a stylish storage solution. They can conveniently store items like documents, sunglasses and other personal belongings while still looking fashionable.
A handbag can also provide added convenience in situations where you need it the most.
Whether you are looking for an everyday bag or something special for occasions, here are 7 benefits of carrying a handbag that you cannot imagine.
1. Professional Appearance
Carrying a handbag can be a great way to add an extra touch of sophistication and professionalism to your look. Whether it's for an interview, meeting or any other professional occasion, a handbag can make you look more polished and put-together.
For instance, if you're wearing a suit, adding a small clutch or an elegant tote will help you look more polished and sophisticated.
A sleek, stylish handbag can help portray a professional image when attending business meetings or networking events. It gives the impression that you take yourself seriously and care about appearances, which is often appreciated in the corporate world.
2. Accessibility
A handbag helps keep all your important items organised and easily accessible, whether that's your phone, keys, wallet, or other essentials. With everything conveniently located in one place, it's easier to find what you need quickly and get on with your day.
Furthermore, having a handbag on your arm also frees up your hands so you can do other tasks without having to worry about carrying around multiple items. It's especially useful if you are out and about or on public transportation.
For example, if you're going grocery shopping, having a handbag allows you to easily hold onto your grocery list and quickly grab items off the shelves without struggling with multiple bags.
3. Style
A handbag can help add style to any outfit. Not only do they come in a variety of shapes, sizes and colours, but they can also be used as statement pieces to make any ensemble stand out.
Your handbag can also be used to add a pop of colour or texture to an otherwise plain look. By incorporating a bag that is different from the rest of your wardrobe, you can instantly transform any outfit into something more stylish and eye-catching.
If you want to style your outfit with a handbag, then you must try a bag on wheels, which will help you to know more about the bags of different styles.
4. Organisation
Having a designated bag means that all your items are tucked away safely and securely, so nothing gets lost or damaged in transit. This saves time spent digging through pockets to find whatever it is that you're looking for.
For instance, if you're heading to a business meeting, having all the necessary documents and other items neatly organised in your bag can make it easier to locate everything you need.
Similarly, having a handbag with compartments helps keep everything organised in its own place. This makes it easier to find what you need quickly, as well as prevents items from shifting or tumbling around while you're on the go.
5. Comfort
If your bag is large enough to carry all the things you need with ease, then it will make carrying heavy items much more comfortable because it distributes the weight evenly across both shoulders instead of just one side of your body, like backpacks tend to do.
For instance, if you're carrying a laptop, tablet and other heavy items throughout your day, having a shoulder bag with straps that are adjustable will make it much more comfortable to carry.
However, when carrying a shoulder bag, it's important to ensure that the straps are not too tight, as this can cause pain and discomfort.
6. Versatility
Handbags come in different shapes and sizes, so they can be used for various occasions, such as work meetings or informal gatherings with friends and family members alike. They can also be paired with any type of clothing style – from casual jeans to formal dresses – making them very versatile accessories indeed.
Similarly, handbags can also be used for both day and night events. A small clutch, for example, is perfect for a night out on the town, while a tote bag would be great for running errands or going to work.
However, no matter the occasion, having a handbag can be extremely helpful in keeping all your essential items organized and easily accessible.
7. Money-Saving Investment
Investing in a high-quality leather handbag will last longer than cheaper alternatives which means less money spent on replacements over time. Leather bags are known for their durability, so they won't wear out easily, either.
Additionally, leather bags tend to look better with age and can be resold at a later date when you're ready for a new bag. This makes them a great investment that can save you money in the long run.
A handbag is truly an essential item for any woman's wardrobe and one of the most practical fashion investments she could make. It can be a worthwhile investment if you're looking for something to use on a daily basis. Not only will it last longer, but you'll also get more usage out of it since quality handbags are built to last.
Conclusion
A handbag may seem like a small thing, but its benefits should not be underestimated; from adding style to an outfit to keeping essential items organised and accessible at all times – it really does have many advantages worth considering.
For those who want to look professional while still having access to all their belongings, investing in good quality leather bags could even prove cost-effective over time too.
So next time you're thinking about buying a new accessory – don't forget about the humble handbag! It may just surprise you with its versatility and practicality.