5 Hacks to Manage Your Kitchen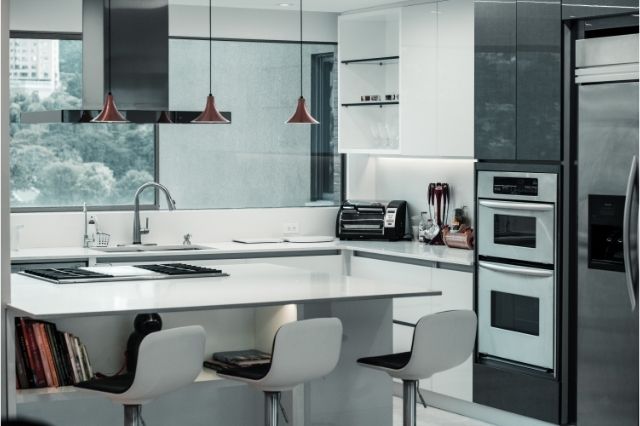 It is usually assumed that a bigger space helps in more organization and less mess. But this is not the case with kitchens. No matter how much you organize, browse youtube, read articles for IKEA hacks, there will be some kind of mess on one side of the kitchen space.
And to no one's surprise, the reason this happens is because of you.
It's understandable that working and managing the house is not an easy thing. One of the sides always gets compromised but that's not it.
According to a survey, more than 46% of people confessed they never look for products, designs while renovating or organizing their kitchen counter.
This is the reason, that when they don't find appropriate space to organize different pantries, it is thrown on the kitchen counter which makes the whole kitchen look cluttered.
So, in order to avoid that mess, here are some clever hacks that you can use in your everyday life to manage your kitchen space.
1. Declutter your counter
The kitchen counter has an immense impact on what your mood will be like while making dinner. So, keep it as clean and empty as possible.
Whenever you bring supplies, vegetables from the market; sort and put them into the baskets instead of throwing them on the counter. If you don't use the toaster or the juicer every day, then put them in a corner or stuff inside the cabinets.
Use a nook to organize all of your appliances. If the knife block is taking too much space for your small counter, then nail a small magnetic wall strip, which is a strong alternative to organizing kitchen knives by also making it look elegant.
2. Make most of the cabinets
Most people don't go beyond assigning each cabinet for different purposes. They stack the supplies without making a plan or organizing, that is why after some time it gets unorganized. To make the most out of cabinets, install organizers for silverware and other utensils.
You can also modify your drawers to make a pull-out cutting drawer to store supplies such as vegetables and fruits or transform it into a spice cabinet. Make sure to write the names of every spice box to avoid confusion every time.
3. Make spaces vertically
With the average size of kitchens decreasing in recent years, making spaces horizontally is tough if there's a lot of stuff in the picture. So, instead of horizontal spaces, make room for vertical renovations. If your drawer space is not enough, get crafty and nail a pull-down spice rack on the top cabinets.
Additional storage space can be added by using corkboards for spoons, forks, frequently used items, and a rack that can be used for hanging pans on the bottom hook while storing your cooking books and other essentials on the top-shelf.
It not only de-clutters small items from the counter but looks aesthetically beautiful.
4. Hang a rack
The simple and most affordable solution to all your organizational problems can be solved by just a rack. The best part about using a rack is, there are so many variations available, so you do not have to spend your time deciding whether it looks good in your kitchen or not.
For instance, a space-saving wire rack can be hung above your stove which will store your everyday-used utensils. It will save you time and energy, will keep the look minimalistic and oh, you can DIY this yourself.
Another thing you can do is, add a wire rack to your fridge sides for hanging other essentials. If that is not an option, buy a small rolling rack with wheels, these racks are divided into 3 shelves and are perfect to store onions, chillies, garlic, and other vegetables.
5. Hang cleaning supplies under the sink
Space under the sink is often ignored but it can be used as an effective space to store cleaning supplies. Add a lazy susan or some hooks under the sink cabinet to store your cleaning supplies and disposable trash bags.
It will help keep everything in front of the eyesight. This will help prevent the disorganization of the cabinet every time you stuff supplies inside the cabinet.
Over to you…
Organizing a modern kitchen is not a difficult task. If you are clever enough, you would be able to make space for an organized and clean kitchen. And with these tips, we hope it will be easier for you (if you are not being lazy!)