How to Make Your Home Luxurious under Budget?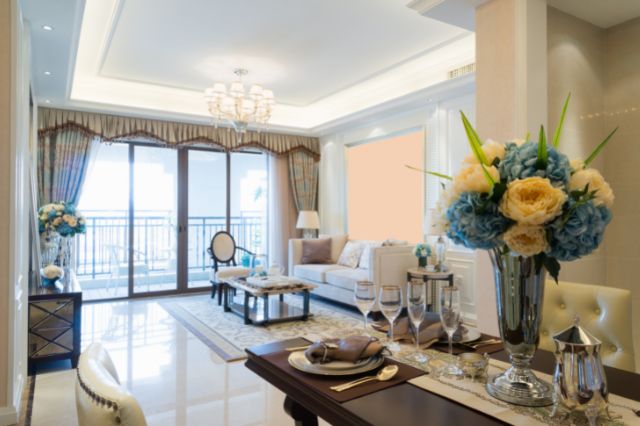 Today, sprucing up your home doesn't require you to spend much money. But, yes! Several elements are cost-effective that can give your home a more lavish look.
So, whether you have moved to a new home and given your personality and taste to its interiors or simply want to revamp your old and existing interiors, in any case, you have come to the right place.
Here we have curated the expert tips and tricks to make your home look gorgeous and luxurious without compromising on the budget.
7 Ways to Make Your Room Luxurious under Budget
1. Add fresh flowers to the space
There isn't any requirement for wallet-busting mega arrangements to give your home a luxury look. Sometimes, a simple bouquet of fresh flowers is all needed to give the space sophistication. Moreover, how you style these flowers in the available vase gives it the edge.
This is the best way to give a monumental impact to any space with a minimal dent in your wallet.
2. Create new artwork from older ones
There is always a big pile of old and outdated artwork that no longer matches the overall vibe of your space. Don't consider getting rid of them. Instead, revamping this old artwork using paint and a few art supplies is possible.
To update an old artwork, all you need is a pocket-friendly can of spray paint. This is the ideal way to upgrade the artwork to give a space a luxurious look.
Additionally, you can even put up your artistic hat and DIY artwork yourself. You can even use painter's tape to create an abstract artwork and flaunt it on your wall.
3. Never overlook the rug
Consider investing in a statement-making rug. Then you can ground your statement furniture on top of it. The right rug plays a crucial role in making the space luxurious. It brings everything together. The rugs also lay the foundation and set the stage for the entire room.
Incorporating an area rug is all you need to include texture, warmth, and pop of color. Lastly, remember that the larger the rug, the more custom and luxury look is offered to the room.
4. Lighting up the space
Adding light gives any space a luxurious vibe under budget. When you consider spending on lighting fixtures, aim for the layering of the 3 lighting types, including:
Ambient: These are the main source of light. It includes overhead and natural lights.
Task: These are lamp or lighting fixtures. It aims to offer the right light for any specific task, such as cooking or reading.
Accent: These are used to highlight any specific area of the room.
5. Consider upgrading your hardware
For some good reasons, you might be hearing this again and again. But, this is entirely true. When you swap your standard hardware to bring in something chic, modern, and trending home, the whole space's vibe is immediately elevated.
You can consider upgrading your hardware on the kitchen cabinets, bathroom vanity, bedroom furniture, center table, etc., to elevate the overall vibe to a luxurious feel under budget. For instance, consider shopping for chic and modern ceramic coasters that are the right element to make your home luxurious without burning a hole in your pocket.
6. Declutter the space
Undoubtedly., mess and clutter are un-chic. The idea is to have a generous style mantlepiece or bookshelves. But, when you stuff them with so many things, it looks chaotic and cheap.
So, you need to make hard choices here. Simply grab a few of the collectibles that offer the space classic and elevated vibe.
7. Consider revamping with a fresh coat of paint
Lastly, there isn't anything cost-effective and the most effective way to get a personalized and luxurious vibe than a perfectly hued wall. So, wait no more!
Roll up your sleeves. Get your paint supplies out of the storage room, as we must accomplish this task under budget. Then, start painting either the entire room or even a single wall.
It is the simple DIY promising to give monumental impact to achieve a luxurious look for your home under budget.
Trust us; there isn't anything as luxurious and classic as dove grey cabinets or crisp white walls.
Endnote
Were you crushing over the home decor page of a popular magazine or on Pinterest?
However, living in such a luxurious home seemed like a distant dream because of a tight budget, so do not fret. We have listed all the expertly advised tips and tricks to revamp your home to a classic, chic, and luxurious look without denting your pocket.
So, wait no more! Incorporate these tips and tricks and live the home of your dreams today.