5 Must-Have Camisoles for Every Wardrobe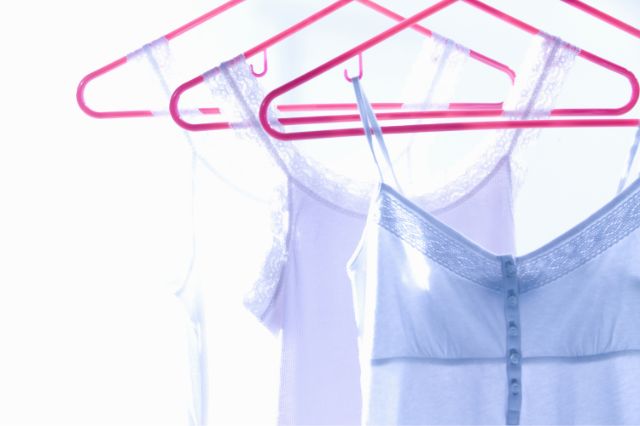 A camisole is a versatile piece of clothing that has seamlessly transitioned from being an undergarment hidden beneath clothes to a fashion statement in its own right. This lightweight, sleeveless garment is a must-have for any wardrobe, given its ability to adapt to many styles and environments.
It provides a comfortable, unrestrictive fit, making it a preferred choice for many. Whether layering it under a sweater or wearing it on its own, a camisole offers a blend of practicality and style. It's the kind of piece that can be effortlessly dressed up with a blazer and heels or kept casual with a pair of jeans and sandals.
It's no wonder that the camisole has become a foundational item for fashion lovers around the globe, earning its place among essential women's tops.
The Classic Cotton Camisole
The classic cotton camisole is unparalleled in its utility when it comes to everyday wear. Its breathable fabric makes it ideal for warm days or as a base layer during cooler months. A cotton camisole paired with a blazer can transition smoothly from office wear to casual evening attire.
Moreover, the durability of cotton allows for repeated washing without losing the camisole's shape or comfort. Many cotton camisoles now feature adjustable straps and come in various necklines, such as scoop or V-neck, catering to personal preferences and different body types. Plus, they're available in an extensive range of colours and patterns, offering endless styling possibilities.
The Luxurious Silk Camisole
Silk camisoles exude luxury and sophistication. With their lustrous finish, they can elevate an outfit, providing a touch of elegance to both day and night ensembles. Silk camisoles work beautifully under a suit jacket or cardigan, but they can also stand alone as a chic top that pairs well with tailored pants or skirts. The smoothness of silk against the skin is a comfort that also speaks to the quality and craftsmanship of the garment.
When selecting a silk camisole, one might consider the weight of the silk, which can range from light and airy to a more substantial draping quality that suits different seasons and occasions. Additionally, silk care is paramount; gentle washing and proper storage will keep these pieces pristine.
The Lace-Trimmed Camisole
Lace-trimmed camisoles add a feminine touch to any look. They peek out playfully from under V-neck sweaters or sheer blouses, adding depth and texture to simple outfits. This type of camisole is especially useful for transforming office wear into date-night attire with its delicate detailing. Lace can add an element of romanticism or vintage charm to an ensemble, depending on the style and pattern of the lace used.
Lace-trimmed camisoles often come with various options for the base fabric, such as satin or modal, each adding a different dimension to the lace's appearance. When wearing lace, it's crucial to balance the rest of the outfit to avoid over-embellishment, making the camisole the focal point of your attire.
The Supportive Camisole
Camisoles with built-in bras provide extra coverage and convenience for those seeking added support. These are excellent for active days when comfort is paramount, or you wish to minimize the number of layers you wear. With a supportive camisole, you can feel confident that you're well-supported without compromising style. The integrated support often comes with padding or underwires, catering to various preferences and needs for support.
Additionally, these camisoles can have the added benefit of adjustable straps and back closures to ensure a perfect fit. They are also available in a range of materials, from moisture-wicking fabrics to softer cotton blends, enhancing their functionality and wearability among women's tops.
The Shapewear Camisole
Shapewear camisoles are designed to smooth and contour the body, creating a sleek silhouette under fitted garments. They are the unsung heroes of the wardrobe, working behind the scenes to enhance the fit and fall of your clothes. By choosing a shapewear camisole, you can eliminate the need for additional shaping undergarments, ensuring a flattering and comfortable streamlined look.
Not just limited to special occasions, shapewear camisoles can also be worn daily as a secret confidence booster. With advancements in fabric technology, these camisoles offer varying levels of control without compromising comfort or breathability. They often feature wider straps and longer lengths to provide comprehensive coverage and support throughout the day.
Caring for Your Camisoles
Maintaining the quality of your camisoles is as important as selecting the right ones. Proper care ensures longevity and preserves the fabric's integrity. Always follow the care label, but as a general rule, hand washing in cold water and air drying extends the life of delicate pieces like silk and lace.
For example, using a mild detergent and avoiding wringers or dryers can prevent damage and wear. It's also advisable to store camisoles by hanging them or laying them flat to avoid creases and to keep them looking their best. In case of wrinkles, a gentle steam can often be a safe way to smooth out silk and lace without the risk of scorching delicate fibres.
Conclusion
In conclusion, the camisole is a multi-faceted garment that adapts to various styles and needs. Whether it's the basic comfort of cotton, the refined touch of silk, the decorative allure of lace, the practicality of built-in support, or the figure-flattering shapewear camisole, these pieces are more than just wardrobe essentials—they are investments in your personal style and confidence.
Incorporating these camisoles into your wardrobe ensures a foundation for countless outfits suitable for every occasion. These five types of camisoles not only cater to diverse style preferences but address different functional requirements, proving their indispensability in modern dressing. Embracing such versatile items will undoubtedly enhance the utility and elegance of your wardrobe.