What's Trending in Denim Fashion?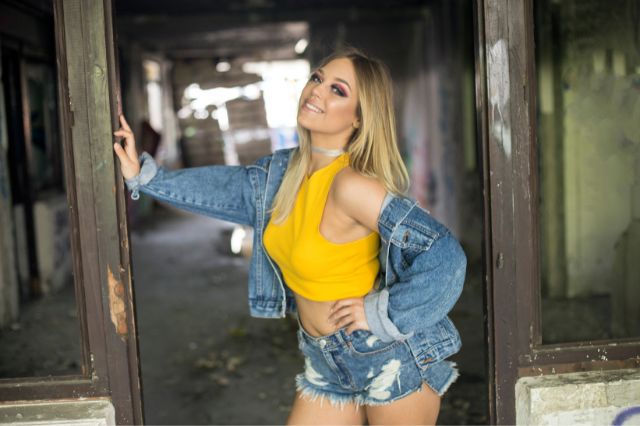 Denim has risen in the fashion scene again, featuring many designs that can help make any look. This material can create something exquisite or mildly elegant, from timeless denim jackets to the latest wide-leg jeans and bags. With distressed details and flawless fits, there's certainly something for every clothing enthusiast when it comes to embracing the denim trend. Many options are available, and here are some of the frontline looks currently rocking this fabric.
Different Types of Denim Outfits
Denim is a flexible material that can be employed to develop multiple ensembles, ranging from informal to dressy clothing. Below are some of the various denim looks:
1. Denim Jackets
Denim jackets are essential for any well-curated wardrobe, offering a timeless look of simplistic sophistication suited to any style. Look to cropped denim jackets in the summertime to flaunt your waistline and embrace oversized styles for making bold statements with your style. Distressed denim jackets provide an edge for casual and formal occasions, while embroidered details lend the perfect touch of elegant flair. With countless options for any season and occasion, denim jackets remain a beloved choice for creating a stunningly tailored look.
2. Denim Shorts
Denim shorts have become an essential part of spring and summer wardrobes. These versatile bottoms come in a range of lengths, from knee-length to above-the-knee, offering endless styling opportunities depending on one's desired look. Those who wish to showcase their legs can opt for a high-waisted pair or a more trendsetting style; consider distressed and frayed denim shorts for a vintage vibe. Whether matching them with t-shirts and crop tops for a summery feel or elevating them with blouses and dresses for a formal look, there's something to suit every taste and occasion regarding denim shorts.
3. Denim Skirts
Denim skirts are ideal for those looking to mix and match their garments. Offering an array of shapes, sizes, and lengths appropriate for any occasion, these skirts provide a timeless style that can be worn repeatedly. From snug-fitting pencil skirts with a slight flare at the bottom to relaxed A-lines giving a flattering silhouette, there's a denim option to suit everyone. The durability of this fabric means that denim skirts are likely to endure through ever-changing trends, lending versatility to your wardrobe. So whether you want something for the office or a night out, denim skirts will always have something to offer.
4. Denim Dresses
The fashion world has seen an upsurge in denim dresses, and it's easy to see why. These timeless, versatile pieces can be styled for any occasion, from laid-back days out with shirt dresses to more formal events with wrap dresses. Maxi dresses remain a favorite for effortlessly elevated outfit choices. Denim comes in an array of hues and washes, so you're sure to find one that suits your taste, whether classic blue or on-trend acid wash. Whether you pair yours with sneakers or sandals, denim dresses will bring an extra dose of fashion-forwardness to your look.
5. Denim Jeans
Denim jeans are an incredibly versatile form of clothing. Their timeless appeal ensures they can be worn to various occasions, from casual trips down the high street to nights out with friends and even more formal events such as business meetings. With a vast range of styles available, there's something to suit everyone's taste. Skinny jeans hug your curves while creating an edgy look. In contrast, straight-leg jeans offer a classic style that never goes out of fashion, bootcut jeans give off a relaxed fit and lengthen the leg, and boyfriend-style jeans provide a laid-back yet fashionable appearance. No matter your style, you'll be sure to find the perfect pair of denim jeans to complete your outfit.
6. Denim Overalls
Denim overalls are a must-have to master any street style. Whether you're going for classic short overalls, contemporary long overalls, or even stylishly cuffed jeans, they instantly lend your ensemble a cool yet playful flair. Ranging from various shades of blue and fun prints such as floral or plaid, there's no limit to these timeless staples. When it comes to styling denim overalls, the possibilities are endless. Rock them with a simple tee or flirty crop top and sneakers to create a laidback look, or dress it up by slipping on some strappy heels and accessorizing with a bold bag or jewelry for added vibrancy. Denim overalls will be a staple in your wardrobe for seasons to come.
Cowpokes Work & Western is the go-to destination for denim fashion enthusiasts searching for the hottest trends to bring a touch of flair to their wardrobe. Featuring an array of distinguished pants, Cowpokes provides the perfect opportunity to ensure your apparel remains up-to-date. Whether you want a timeless staple piece or something bold and daring for a night out, Cowpokes has what you need to stay ahead of the fashion curve.