7 Tips for Planning a Destination Wedding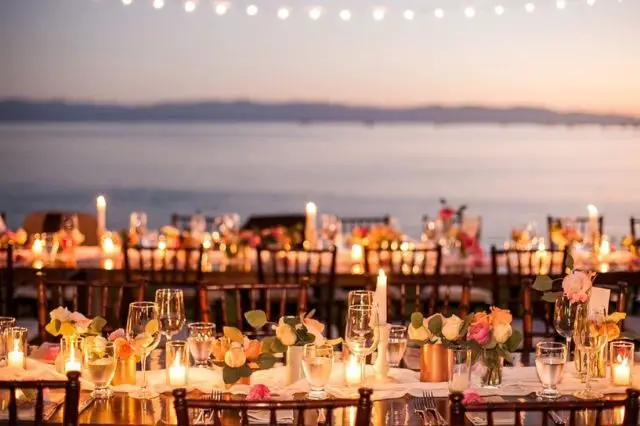 If you've decided to tie the knot, congratulations! Taking that next step in your relationship with your partner is a big decision, and it deserves a celebration. However, as you start planning your upcoming nuptials, you and your partner might decide to host your wedding somewhere that none of your guests live. This is often known as a destination wedding, and many couples choose this route because they want to have their wedding somewhere that no one else has chosen. As the cost of weddings start to climb closer and closer to pre-pandemic rates, it's important that you take the time to properly plan for whatever type of wedding you choose to host. A destination wedding is a great option for many couples, so here are some great tips to help you plan the best destination wedding anyone has ever seen!
1. Know where to cut costs
Cutting costs can make a huge impact on your destination wedding experience. Cutting the wrong costs can make the wedding more hassle than it's worth. For many, this means that you will need to opt for a buffet instead of a plated dinner and consider inviting less guests. The fact of the matter is that destination weddings are often more expensive than weddings in your hometown — the cost of travel, lodging and transport for many of your wedding items can cause the cost to skyrocket faster than you'd expect.
Knowing where to cut costs and keep quality up will go a long way in ensuring that you're heading in the right direction. Wedding rings are an expense that you can easily cut by opting for a non-metal or diamond ring. There are lots of popular wedding bands for women that you can stack to give the appearance of an engagement ring and wedding band, and many alternative men's wedding bands mimic the shine and polish of a metal ring!
2. Don't stress about the location
A destination wedding is simply one that's away from where you currently live. Whether that's three hours away or a whole 12-hour flight, try not to stress about the location. What matters the most is that you are marrying the love of your life and you're taking the next step in your relationship with that person. The location doesn't matter as much as the commitment. You can still have the destination wedding of your dreams, even if your wedding budget dictates that you stick a little closer to home.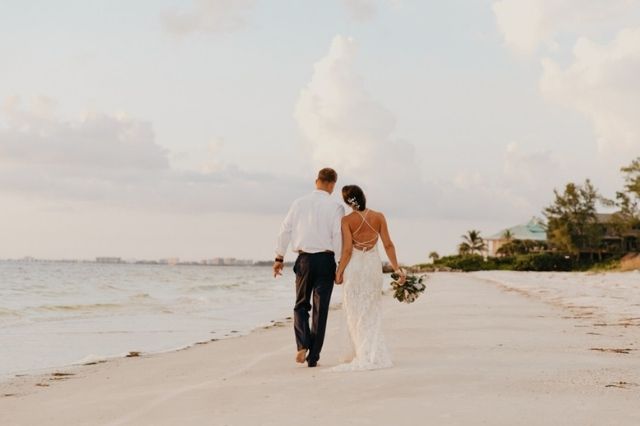 3. Choose vendors from the location of your wedding
If you go with vendors from your hometown, such as a florist, decorator or even a planner, you might have to pay for them to transport all their services to your wedding location. You might even need to pay for their travel yourself, including their airfare and lodging.
If you're having a destination wedding, research vendors local to the area. Browse wedding sites and read reviews to determine whether or not they seem like a good fit. Make sure to ask to meet with them before putting down a deposit. Doing this will ensure that you save some money and whole lot of stress. Many of those local vendors already work together, so you won't have to stress about whether or not you'll run into any issues.
4. Consider your wedding date
Some wedding dates are going to have a heftier price tag than others, especially for destination weddings. Because many couples will choose a destination wedding in the winter to escape the cold of their own hometowns, those destination areas are usually more expensive during the winter. However, flights are usually cheaper than they are in other seasons.
Be mindful of planning your wedding date around holiday weekends or even during week-long breaks for local schools. That's often when families will take vacations to those destination areas, leaving you with a large price tag and limited options for venues.
5. Try to find an all-inclusive venue
Many couples will opt for a hotel as their destination wedding location. Hotels are usually more inclusive than other venues because you can usually find decor, rentals and catering all in one location. Try to find a venue that offers a little more, such as a baker and even flowers as part of their price tag. Some even include a two-nights stay in their bridal suite or a complimentary bottle of champagne. It's a great option for couples who want to get the most for their money.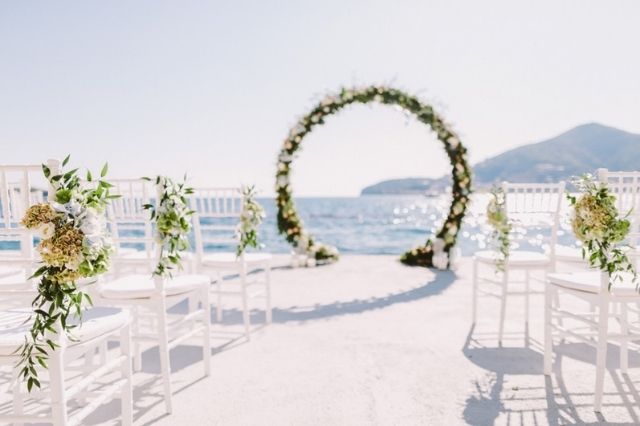 6. Invite close family and friends
Destination weddings usually have a smaller guest list, mainly because many guests can't afford the trip. However, consider keeping your general invites to a smaller amount. This will keep your wedding small and intimate, and you won't have to pay deposits on costs that are scaled for larger groups. This can allow you to spend a little extra on things like catering or even decor.
7. Get all your travel documents in order
If you're traveling out of the country, make sure to have all your travel documents in order. This includes a passport, ID card and even your medical conditions or power of attorney. This will go a long way to ensure that you and your fiancé are safe and that your assets are taken care of when you're on the road. While most destination weddings go off without a hitch, having all the travel documents you need long before actually traveling for your wedding is just one of the ways that you can ensure it goes off without any snags.
Final Words
A destination wedding is a great option for many couples to celebrate taking the biggest step in their relationship. To ensure you have the most successful wedding, there are some things you can do. One of the best measures of a successful wedding is that you and your fiancé have the best time and get a chance to really bask in the happiness that is your wedding day.