Video Making Tips to Boost Your Engagement and Conversions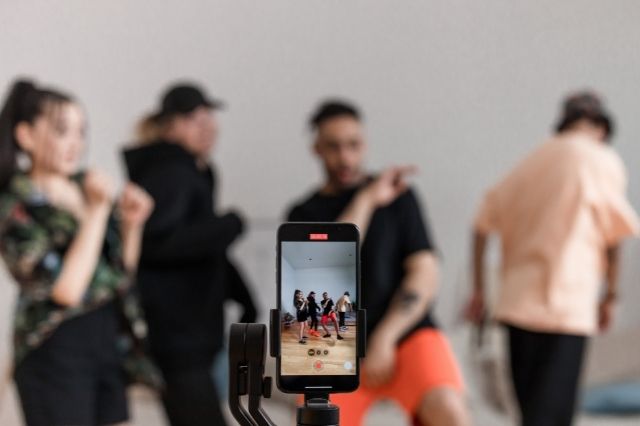 Marketers need to explore new ways of keeping the audiences engaged in this age of shrinking attention spans and information overload. The online world is a complete mix of different activities right now. And that's why it has become critical for businesses to captivate and retain the audience's attention to keep up with the competition. 94% of marketers agree that videos have helped increase user understanding of their product or service. No doubt, videos are helping companies to stand out from their competitors, but only if they are engaging enough.
So, to make the whole journey of utilizing video marketing easier for you, here are tips that will not just boost engagement but generate leads, conversions, and sales. Creating more engaging videos will expand the reach of your business while helping you make real connections with prospective buyers.
Let's dive in and explore some useful video making tips:
1. Have a Script Handy
First To ensure your video is engaging, you must prepare a script. This will help you put your message across and ensure that your message is received correctly. You must prepare the content script before starting the video-making process. If there's a specific objective you want to accomplish, identify the beginning point, the route, and the destination.
Keep checking the script throughout the video-making procedure to ensure it is effective and concise. Also, make sure it communicates your value proposition.
2. Choose the Right Video Making Tool
You might come across different options claiming that video making online is very easy and quick there is no doubt in this, that the right tool can make your editing journey very easy. These tools are coming with all the latest features like adding text, cropping the video, and adding sound. The best part is that for Using all these functionalities you don't require any specific learning or training you will be going to be very knowing and handy with the tool by trying once.
The right tool has the power to change your raw video into the most engaging and eye-catching video.  Do proper research to produce the best content. You can choose the best one based on your preferences and tastes.
3. Hook the Viewers
Make sure all your videos start with a very powerful hook for keeping the viewers' attention. It is the hook of your video that will have the audience watching it right to the very end.
In your intro video, you must explain what your video is all about but in a very interesting way. Here, the proper editing method can transform your video completely. The right editing approach will help you save both the time and effort that otherwise goes into making a video.
4. Use the Right Video Length
Marketers are always recommended to keep their videos short. Nevertheless, different factors can affect the right video length. These include the audience, the gadgets used by the viewers, location, value, and content distribution platforms.
If your target audience watches videos on their mobile devices on the go, in subways, in traffic jams, and during work breaks, they require something very quick. If you present them with long videos, they will skim through the sections, missing out on important messages.
For Instagram posts, your videos must not be more than 60 seconds in length, while Facebook videos must be between 20 and 90 seconds. Facebook stories can be up to 4 hours long. If you think of sharing your video on Twitter, make sure the length does not exceed 45 seconds. And videos embedded in blogs should not be more than 60 seconds in length.
5. Use a Lot of Jump Cuts
Human beings tend to skip from one task to the other very quickly. This is how they co-join and create ideas. A jump cut is a special type of clip-cutting technique that mimics the human brain's functionality.
Hence, it is a good way of increasing the appeal of a video as it mimics human speech and thoughts. Editing the milliseconds in your video will help you get right to the point, spitting out your ideas quickly while driving the intended message home. You can also use jump cuts to eliminate repetitions in long videos and delete unwanted pauses or something that's off-topic.
6. Get the Right Tone for Your Video
The tone of your video is important from the beginning to the end. It captures the viewer's attention and significantly impacts their minds. Having a positive tone for your video will contribute to its overall impression. Remember, it is not enough to narrate your video. You also need to put in the correct text, sound effects, and images to spice things up. Make sure the entire video is not narrated by one person standing right in front of the camera. This will make the video feel stale and old after some time. Try including a lot of infographics, charts, and PIP shots to make your video more interesting and captivating to the audience.
7. Include Captions and Subtitles
Adding captions and subtitles to videos is critical if you want your videos to go viral and be watched by many people. This way, it will get easier for you to connect with individuals worldwide.
Since English is a universal language, it works to use captions and subtitles in English. At the same time, you must not limit yourself to just a single area when filming your video. Make sure your video is seen by millions of people.
For this, you must have a good transcript in hand that will time-stamp your content. Adding a script to a video and uploading the same on YouTube will make the content more accessible to those who are hard of hearing or deaf.
The Bottom Line
So, by now, you must have a basic idea about how you can keep viewers engaged and interested in your video content. Video content is an essential part of social media marketing and is beneficial for all types of businesses. you can become an expert at commanding the attention of your prospective buyers by using the video content in the right way.