Top Five Trendy Pantone Colors of 2023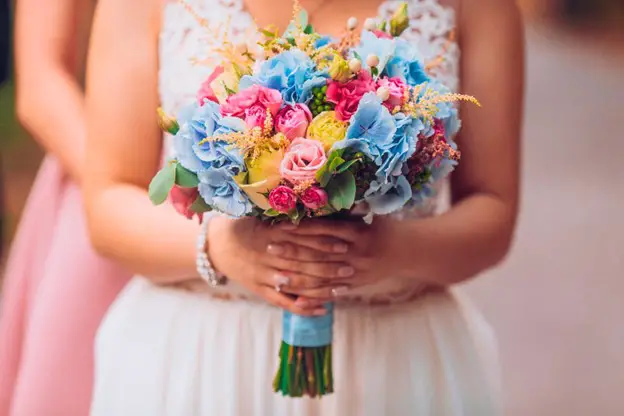 Even a single color can affect your emotions, trigger a memory, and even influence the temperature! A group of colors can tell an entire story. It has the power to represent the sentiment of society.
All of these factors go into analyzing the most popular 2023 wedding colors. Here's how to plan the palette for your wedding. 
Viva Magenta 18-1750
It's not even a question. Pantone® is a worldwide group of color experts who invest their time into assessing the most influential color. According to the team and tons of empirical data, this vibrant red perfectly encapsulates the optimism and unapologetic energy we'll all be carrying throughout the year. 
This is sure to be this year's most popular summer wedding color. It's inherently a romantic hue. Its vibrancy can be found in many spring and summer blooms, and blends well with many harvest palettes. All of these features are very favorable to many wedding themes and seasons. 
Viva Magenta can be a powerful, singular color all year around. It's also easy to harness its energy in different styles by using it as a subtle accent or pairing it with neutrals or other colors. 
Very Peri 17-3938
Very Peri delivers the most versatile wedding color combinations. Technically, Very Peri falls on the cool side of the color spectrum. However, it possesses many warm and friendly qualities. Although the color performs in almost every setting, the juxtaposition of cool confidence and transformative curiosity creates the perfect balance for spring wedding colors. 
There's a freshness to Very Peri, so it's best served outdoors. For a simplistic traditional wedding theme, pair with neutral taupes. For a more vibrant experience, compliment Very Peri with an assortment of violets and soft blues. Make sure to experiment with secondary colors that may not make sense at first. You'll be surprised at how easy it is to find a harmony that suits your style. 
Summer Song 14-4316
The name of this particular shade of blue is a little on the nose. But it works. It's a muted tone that doesn't demand attention, it earns it. It contains the energy of the skies and seas but isn't conceited about it. 
For obvious reasons, Summer Song is categorized under summer wedding theme colors. Outdoor weddings typically drop the shoes or ditch ties because of their casual nature. It can be difficult to create a sense of formality under these conditions. This light blue can be an elegant option for retaining elements of a traditional wedding theme. It also looks gorgeous against metallics and other natural elements to compliment bohemian and rustic themes. 
Gold Flake 16-0748
One of the more ideal trendy wedding colors for autumn, Pantone®'s Gold Flake embodies the transformative energy of the harvest season. Standing alone, Gold Flake reflects the energy of the sun itself. Combined with other warm hues, it symbolizes renewal, power, happiness, and confidence. 
Alternatively, use Gold Flake as a spot color against black, white, and gray. It's not a harsh yellow, so the pop of color will liven up any setting without offending the eye. However, yellows are always overwhelming when overused. Avoid large blocks and oversaturated usage of the color. 
Mykonos Blue 18-4434
Mykonos Blue can be used as wedding colors for June, or any other month for that matter. However, it's arguably best suited for winter weddings. Confident blues are often used to echo the characteristics of the season. This is an especially effective 'winter wonderland' hue that's easy to pair with an array of other blues to create dramatic texture. It also blends well with a variety of greens to capture the resilience aspect of the season.
If you're not into winter weddings, don't worry. Mykonos Blue isn't just a name. The essence of the Mediterranean Sea is embedded into the color, resulting in laid back yet sophisticated summer weddings.