10 Unique Proposal Ideas That Can Surely Get You a "Yes"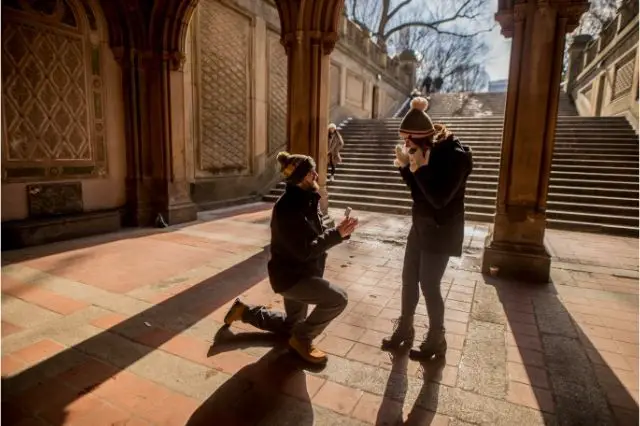 We both know why you're here… it's already making me giddy!
Now that you have made up your mind to propose to your special one, you need to know the next important thing to plan a grand proposal – after all, it's going to stay with the both of you, for a lifetime!
Proposals are big and outlandish but they aren't supposed to be only that. They are supposed to be sweet, intimate, and really emotional, for you, as well as for your loved one.
That being said, below, I've compiled my personal favorite 10 proposal ideas that always work!
1. Throwback
The first one is quite simple but surely is memorable. You take him/her back to the place you either first met or went out for your first date.
Or, you can even take them to a place where you share some special memories. The idea is to create nostalgia of some sort. This is when you get down to your knees and pop the question.
Quite similar to the first one, but in this, you start at their house with a note, sending them to all the special places you guys share.
One note leads to another and you will be there waiting for them at the final meeting place. Include lights and candles if you want.
3. A basket full of treats
Probably the simplest proposal on this list. All you have to do is fill up a basket full of your loved one's favorite items.
These include chocolates, candies, and other treats. Among them, have a hidden ring box inside, or a bar of random chocolate along with the confession, of course. After this, just wait and pray for the golden word – YES!
4. "Our engagement picture"
Gift your loved one a photo album or collage that has all the photos of you both together. Keep one space empty and instead put a caption there saying "Our engagement picture". The minute he/she looks at you confused, get down on your knees!
5. Christmas special
The only problem with this proposal is that you might have to wait for Christmas to make it work.
When decorating your Christmas tree with ornaments and boxes, keep a similar box with the ring in it. Now, you have to make sure that your loved one opens that box, and then, be ready to go down on the knee.
6. For people who are fond of coffee
This works for everyone, because well, who doesn't like coffee? For this proposal, you need to have a customized coffee mug that has your proposal engraved at the bottom.
Give it to the coffee shop, and ask them to serve her coffee, in this mug only. Once she is done with her coffee, she will read those special words.
7. Favorite book
If your loved one loves books, read this very carefully. Gift your loved one her favorite book but with a twist. Either hallow it from the inside or bookmark it with a diamond engagement ring on the inside!
8. A lit dome
One of the most magical proposals in this list with a lot of shimmer-shammer. Rent a local park, or a gazebo, and light it all up. Decorate it with lighting, flowers, and candles.
You can also invite some of your common family and friends. In this magical spot, make the proposal and pop the question, mate! All the best.
9. For the pet owners
If any of you has a pet, most likely dogs, you can make your dream proposal with their help. Add your ring to the leash of your dog's collar and hand it over to them.
Just in a matter of time, they will notice it and next, you just need to get down on one knee!
10. Keeping it simple
The fact that now everyone wants to do something special brings back the old school, going down on the knee special again.
If nothing from the above list suits you, you can consider this as well. It might sound simple but it works. Don't forget, old is gold!
I hope you found your proposal idea and also hope that you have a special proposal story to share someday, with your kids, grandkids, or family!