The Perfect Fit: 5 Tips to Secretly Get Your Partner's Ring Size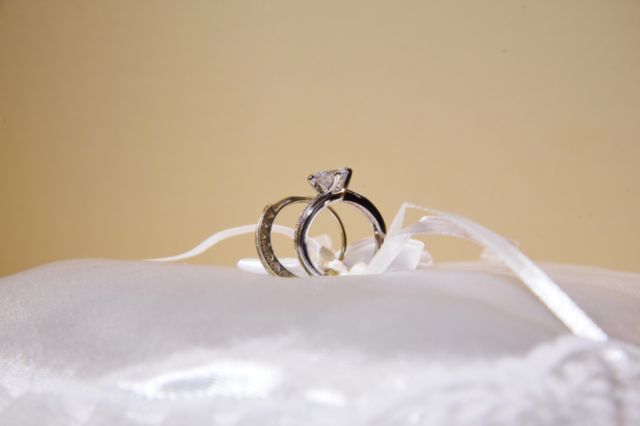 When planning the perfect surprise proposal, there are many moving parts, which means attention to detail is crucial. On top of eluding suspicion and planning the day to a T, you'll need to find your partner's ring size without raising any red flags.
Fortunately, there are many ways to find your partner's ring size without sounding the proposal alarms.
Go to a jeweler
Shopping for an engagement ring online gives you access to a wide selection of bands and diamond cuts, but going to a jeweler can make things easier if you don't know your partner's ring size.
Some jewelers offer beautiful custom engagement rings you can bring back for sizing after you propose. Other jewelers will even let you exchange the ring you picked for another if resizing the band isn't possible.
If you plan to have the ring resized after you propose, let the jeweler know so they can help you choose a design and material that will allow for resizing. For example, resizing is easy with metal rings, but materials like wood, enamel, or stone may be more challenging or impossible.
Note that it's also easier to size down when resizing a ring. Don't hesitate to buy a ring that might be slightly too large. The average ring size for a woman is a size 6, which can be a good starting point when shopping for a ring you intend on getting resized.
Measure a ring your partner owns
You can use a ruler to measure the diameter of a ring your partner owns. Using a ruler with millimeters will yield a more precise result. Just make sure you place the ruler in the middle of the band to measure the diameter with precision.
You can also place the ring on a piece of paper and trace its inner contour with a pencil to measure the ring's diameter.
Once you have an approximate measurement, you can use a chart to find the corresponding ring size. Sizing can vary slightly from manufacturer to manufacturer, so make sure you use a chart published by your specific ring maker.
Try on one of your partner's rings
Another method to find your partner's ring size is to try on one of their rings. Try different fingers to see where the ring fits best. If your partner has smaller hands, see which knuckle you can make their ring fit.
This method is less accurate than measuring one of the rings they own, but you can try on different rings at a jeweler to see which one is the closest to your partner's ring in terms of fit.
Ask a close friend or relative
One of the best tactics to avoid suspicion is calling on a close friend or family member to snatch your partner's ring size in secret. You can also ask a close friend to come up with an excuse to borrow some of your partner's jewelry. It's a discreet way to access a ring that you can measure or take to a jeweler for comparison.
The decoy gift method
Another inconspicuous way to get your partner's ring size is to buy an inexpensive ring and give it to them as a gift. You can then see how the ring fits on your partner's finger and ask what their ring size is if it doesn't fit properly.
Conclusion
These different methods should help you obtain your partner's ring size discreetly. It's recommended to go to a jeweler and ask about resizing since it's the best way to ensure the engagement ring will fit properly.