A Comprehensive Guide to Custom Awards and Trophies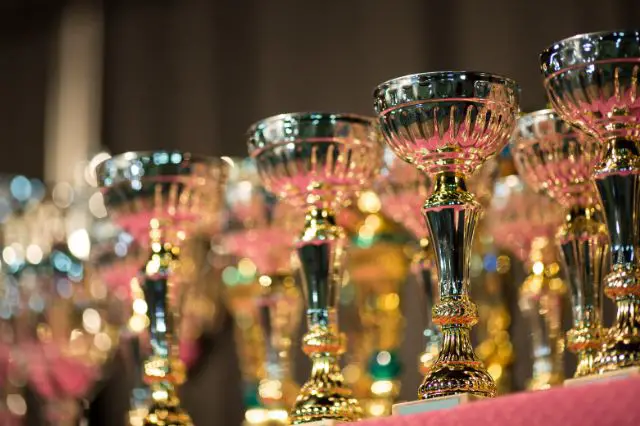 Awards and recognition are essential in any setting for a lot of reasons. They are positive reinforcements that drive productivity and excellence, and they help promote best practices. They also set a level of performance standard whether in business, sport, or academe. In fact, according to Achievers' 2021 Employee Engagement & Retention Report, one of the reasons employees are motivated to stay in their current role is recognition.
Giving out tokens as awards is very popular whether in a school or corporate setting, and for a good reason: tokens such as trophies, plaques, and certificates represent a milestone, a win in a person's academic, sports, or professional career. They are the tangible manifestation of one's achievement, objects of pride people put on display in their homes and offices. Plus, they are great conversation starters!
These rewards are so important; it is always a dilemma to decide what awards to give, not to mention other considerations, such as the type of event, time, and budget.
We have put together this simple guide to help you in your next award-related procurement decision.
Types of Awards
Trophies are great awards for a number of events, especially in sports and academe. Winning a basketball tournament or acing a spelling bee competition deserves a great trophy. They come in various shapes and sizes too! The most popular trophy type is the loving-cup trophy⁠—cup-shaped, on a pedestal with two or more handles. But they can be customized to be event-appropriate. Some trophies can be customized to be shaped like a golf ball for golfing events, a basketball player for basketball tournaments, and a huge bee on top for—guess what? You probably guessed right: a spelling bee competition!
Medals are also excellent awards for sporting and academic achievements. Though more subtle than trophies, medals are preferred by some due to their size. They are easier to carry and do not require a lot of space. They can be engraved with a company or school logo or other distinct words or figures signifying the event.
Plaques are stylish, classy, and perfect in corporate settings. These are perfect awards for recognizing the employee of the month, employee anniversaries, and employees whose ideas create a positive business impact.
Certificates can either be for recognition or appreciation. Though more low-key than trophies, plaques, and medals, this type of award explicitly states the reason for the recognition or appreciation. Certificates can be awarded for academic achievements and professional milestones and be given to appreciate people's time and effort for a specific endeavor.
This is taking personalized awards to the next level. This is ideal for small organizations, where everyone knows everyone—their experiences, their likes, dislikes, and what specific gift they would appreciate the most.
Types of Materials
These awards may be made from various materials, such as metal, wood, acrylic, glass, and crystal.
Metal – very durable but still customizable. Because of the cost of the material, awards made of metal are generally more expensive.
Wood – a popular choice for awards for hundreds of years. Wooden trophies and plaques can last for years, and they are eco-friendly too!
Acrylic – looks similar to glass and crystal but lighter, more durable, and cheaper. It's ideal for more creative but budget-friendly awards.
Glass –perfect for a modern and sophisticated look. It's heavier and costlier than acrylic, but it looks classier than acrylic ones.
Crystal –glass but of a different kind. Crystal is harder and stronger than regular glass. Another well-known property of a crystal is its ability to reflect light in a dazzling spectrum of colors—making the awards a sight of absolute beauty. But because it is harder, customization takes longer. This material might not be ideal if you are on a tight schedule.
Time
If pressed for time, consider the turnaround time before selecting the shop to buy from. Good thing most shops offering customization of trophies and awards have websites you can browse through without having to visit the store physically.
Some specialty stores even accept customization suggestions from you. And you can do all these online!
No matter what type of award you finally choose (just as long as it is appropriate for the occasion), it is always the intent that matters the most. Remember that awards are given not only to recognize specific people but also to inspire others to strive for greatness.