Gordon Ramsay's Top 5 Restaurants in London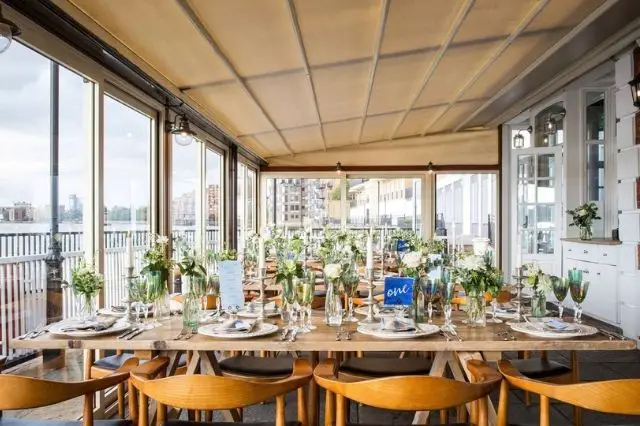 Gordon Ramsay is a well-known Scottish chef, and restaurateur. He is also a famous television personality; known for the temper he displays on television cooking programs such as Hell's Kitchen. People find him entertaining in this aspect. However, not everyone is the same, and some find him overly aggressive. Some would prefer to enjoy their free time reading a thrilling book, exercising in a park, or to play online games in the UK, rather than watching him ramble on television for hours. Therefore, he's quite a controversial figure in the industry.
In 2006, Chef Ramsay received an OBE for his services in the hospitality industry. In total, his restaurants have been awarded 16 Michelin Stars. However, today he only holds 7 of them. With a net worth of $220 million, Ramsay is one of the wealthiest chefs in the world. He runs several restaurants across the globe, 18 of which are in London. Ramsay's restaurants in London are popular amongst various cultures. Moreover, it's a huge achievement to appeal so successfully to so many different tastes and preferences in such a multicultural environment. Here are his best five in London!
The Narrow by Gordon Ramsay
The Narrow is a restaurant overlooking the Thames River. The food at this restaurant can be experienced in three different spots – The River Room, that is usually used for group private dining, or the conservatory and outdoor terrace which are usually used to enjoy the panoramic view while dining.
When coming to their food options, their beef brisket and beer-battered fish and chips are the most popular options. Additionally, the roast cod and buttered chicken with saffron rice are also amongst the favourites. The dessert menu is also delightful. The toffee brownies, pudding, and espresso on the menu will complete your dining experience.
Additionally, this restaurant offers several types of wines and cocktails. You can choose from the traditional cocktails, like a Mojito, or one of their house cocktails. You will also get an excellent selection of wines.
Petrus by Gordon Ramsay
Petrus is a Michelin-starred restaurant located at 1 Kinnerton Street London. Just like other Gordon Ramsay restaurants, Petrus will definitively meet your expectations. The restaurant has four different menus: the Prestige Menu, the Prestige Vegetarian menu, the À La Carte Menu, and the Vegetarian À La Carte Menu. Additionally, there is also a Weekday Lunch Menu, which you can check out here. Both Prestige Menus are fixed 6-course meals, while you can order separate meals of your choice from the À La Carte Menus. This restaurant is perfect for all fine diners, and especially vegetarians.
Savoy Grill
Ramsay's Savoy Grill is one of the most iconic restaurants in London. It is also one of his bests in London. This restaurant offers visitors a unique experience – known as the 'Chef's Table' Experience. This takes place in the restaurant's own private room. Here, visitors overlook the grill kitchen and enjoy all the action. The Savoy Grill staff will greet you with canapés and cocktails upon entering. Then, you will be escorted to the private room overlooking the kitchen. The private room houses up to 8 people. Furthermore, you will have your own waiter, sommelier, and unique menu. However, you can also enjoy an ordinary meal at this restaurant if you wish too.
Gordon Ramsay Bar & Grill
Gordon Ramsay Bar & Grill is located in 3 areas of London – Chelsea, Park Walk, and Mayfair. Their Butcher's Block Experience at the restaurant in Mayfair is similar to Savoy Grill's 'Chef's Table' Experience, where you can watch all the kitchen action while sitting at their wooden kitchen table. Apart from this, they also have separate menus for normal dining. Each Bar & Grill branch offers similar menus, and options, yet they are not identical.
Restaurant Gordon Ramsay
Restaurant Gordon Ramsay is located on 68 Royal Hospital Road, London. The restaurant has 5 separate menus – the À La Carte Menu, the Menu Prestige, the Carte Blanche, the Vegetarian Menu, and the Dessert Menu. In particular, the 'Carte Blanche' menu offers the most unique experience to customers. The menu is based on the element of surprise and giving the chef control to create a unique menu based on creativity and inspiration. This is priced highly but is definitely worth the experience!
Conclusion
Gordon Ramsay's restaurants are known for their premium dining. Besides his restaurants in the UK, he has several other premium restaurants scattered across the globe. This includes the popular Hell's Kitchen in Las Vegas at the Caesars Palace for example. The restaurant is modelled after his own 'Hell's Kitchen' television show. Caesars Palace is the perfect restaurant location, especially for people who are planning to go to the casino or are coming back from playing casino games at the Caesars Palace.
Gordon Ramsay's restaurants provide the absolute best of fine dining to their customers. Each restaurant has a unique twist to ordinary food. Moreover, his restaurants have taken traditional food to the next level of perfection. With a multitude of starters, main courses, and desserts to choose from, your taste buds will not be unsatisfied!