10 Family Adventure Trips Your Kids Will Enjoy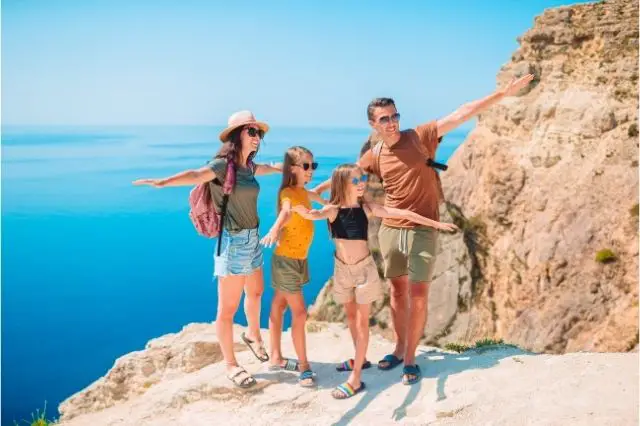 We all need a break, including our kids once a month or at least once a year. You might be thinking, why? The most straightforward answer is that although we work hard, we are not as diligent as computers or machines. Our body organs also need some breaks to restart and refresh.
There is the misconception that office work (10-5) is only the job. If you think in the same way, then sorry, you are wrong. Your kids and other family members do have a hectic day, just like a typical employee has.
Working since morning, regularly preparing breakfast, lunch, and then dinner for a whole family member, and not taking a single day off is not a joke. Similarly, your kids have their tension and struggle. They may have been continuously struggling between schoolwork, completing assignments on time, and sparing time for their enjoyment.
As per the report, 46% of stress comes from the workload, and 20% comes from personal lives. Thus, taking a break from the daily stress is a must, and how great it would be if you take a break enjoying with your dearest and nearest away from all everyday chaos.
If you have no idea where you can go with your family on an adventure trip yet cost-effective, here is the article that covers the top 10 places where you can go with your family and have great fun without spending much money.
Ten family adventure trips your kids will enjoy
1) Munich, German
Munich is the capital of the German state named "Bavaria" and is one of the largest cities in Germany. It is situated on the bank of River Isar, north of the Bavarian Alps. After Berlin and Hamburg, it is the third-largest city in Germany with around 1.49 million population.
Undoubtedly, Muchin is a great place to explore with your young kids and your elderly family member. Muchin has many things to offer you, either playing some attractive indoor activities or spending some time outside seeing the sunset. The place is a package of everything that a family wishes for in their trips.
Things to do in Munich with your family
Spend a day at the German Museum
Meet the monkeys at Hellaburnn zoo
Climb the stadium roof at Olympic park
Feel the magic of movie-making at Bavaria film studios
Dry picnic at the English garden
Take your little one to the traditional beer garden
Sample treats at the oldest and best air open farmer market, Viktualienmart
2) Rovaniemi, Finland
Rovaniemi, the capital of Lapland, is the official hometown of Santa Claus in northern Finland. It was destroyed in world war ||, but today it is a modern city and is known not only for being the official hometown of Santa Claus but also for viewing northern lights.
In short, if you are planning a family trip, Rovaniemi would be a great stop-off in Lapland. As December is coming near, it would be a great place to visit Rovaniemi to celebrate Christmas. Visit Rovaniemi and explore the water parks, theme parks, new tastes of good food with your younger ones.
Things to do in Rovaniemi with your family
Visit Santa Claus village with your family to experience unparalleled fun
Take your child to Arktikum, a museum and a science center with prehistory, history, regional, and culture exhibitions.
Cuddle arctic animals at the Arctic circle husky park
If you plan to visit Rovaniemi between September-March, then it is the best time to see the northern lights.
Enjoy ice swimming and have fun with your kids
3) Bali, Indonesia
Bali is the province of Indonesia. Being the second-largest city after Makassar in Eastern Indonesia, it is the most populous city. Bali's main point of attraction for tourists is its beauty, beaches, islands, culture, and food. Several tourists visit Bali from across the world to enjoy it.
Bali must be on the top of your bucket list if you are looking for a budget-friendly yet beautiful and relaxing city. Bali is a perfect family destination from every perspective that a family needs to relax and spend quality time together.
Things to do in Bali with your family
Roam around and shop some traditional art and craft from Bali's streets
Experience parasailing, jet ski, and banana boat in Tanjung Benoa
Enjoy your moment in Bali swing and experience white water rafting
Visit some spiritual places such as holy water temple, hot springs, and monkey forest
Visit Lollypop playland, a brilliant place for your younger ones
4) Dubai, UAE
Dubai is one of the wealthiest, most advanced, and developed cities and capital of the emirate of Dubai. Luxury shopping malls, breathtaking architectural structures, and lively nightlight life is the main attraction of it.
Dubai, a city where big business takes place along with the great flow of tourists, has a lot to offer you. If you are looking for a place to experience modern and Arabic lifestyles, Dubai is the one. However, visiting Dubai can be a little expensive with your family, but it is worth it.
Things to do in Dubai with your family
Experience sandboarding in the desert
Enjoy Dubai's dancing fountain
Take your kid for a camel ride
Visit a Dubai aquarium and underwater zoo
Go to 4*4 desert safari
Go to the Burj Khalifa, the world's tallest building
5) Phuket, Thailand
Phuket city lies on Phuket island, the largest island of Thailand. It is one of the finest beaches destinations. Many people worldwide come here to enjoy its natural beauty and relax on the island's bay.
People of Phuket are very welcoming towards tourists, and they make sure that you enjoy your vacation in a very homely environment. Phuket is perfect for your summer vacation, where you can relax on the beachside, watching the palm tree nodding, glittery seas, and vibrant nightlife.
Things to do in Phuket with your family
Visit P.A. tong, one of the beaches which are famous for its lively atmosphere.
Take your kids to Trick Eye Museum, a one-of-a-kind illusion art museum where the walls are covered in 3D paintings and may feel like they might pop out anytime.
Have a unique experience visiting an upside-down house with your kids.
If you or your kids love birds, then you must visit Phuket Bird Park.
6) Kashmir, India
Kashmir is the most beautiful city filled with all-natural beauties. It is located in the northwestern region of India. The mesmerizing beauty of Kashmir would surely take your breath away. Because of its beauty, environment, and picturesque, Kashmir has become one of the favorite holiday vacations for tourists.
Things to do in Kashmir with your family
Shikara ride on Dal lake
Camping in the Kashmiri hills
Enjoy snowboarding and skiing with your family
Experience horse riding in Srinagar
Enjoy a thrilling experience while river rafting
Go for a short or long trek
7) Pokhara, Nepal
Pokhara, generally known as a city on the Phewa Lake, is the metropolitan city in central Nepal and serves as the capital of the Gandaki provinces. This city is the gateway for the Anapurna circuit, a popular trail in the Himalayas. Pokhara is the second most visited city after Kathmandu in Nepal and one of the favorite destinations for tourists.
Seeing the beauty of Pokhara,  many tourists especially travel writers, become spellbound. If you are thinking of visiting someplace with calm and chill vibes and a budget-friendly, then Pokhara should be your top choice among other holiday destinations.
Things to do in Pokhara with your family
See the breathtaking view from Sarangkot
Enjoy the view while boating in the lakes
Go fishing with your kids in Phewa lake
Roam or shop with your kids around Lakeside
Visit Mahendra cave and Davis fall
Take your kids to the International Mountain Museum to learn more about the Himalayas
8) Istanbul, Turkey
Istanbul is the largest city in Turkey and is the center of the economy, culture, and history. It is formally known as Constantinople.  Istanbul is the major city for trade as well as for tourism. It is more famous because it connects two main continents, i.e., Asia and Europe.
Turkey is famous for its food, culture, architectural structure, sweets. If you have selected Istanbul as your family trip destination, then go for it. This place has a lot to offer you. Your kids will be mesmerized by the charms of the old world.
Things to do in Istanbul with your family
Have a thrilling experience of sea life in Bayrampasa
Take a tour of a theme park called The World of Dinosaurs at Jurassic land.
See dolphins performing at the Istanbul dolphinarium.
Visit Miniatruk, where all the greatest monuments of Turkey are kept in the forms of the miniature.
9) Hoi An, Vietnam
Hoi An is a little yet magical town on the coast in central Vietnam. It is famous for its UNESCO-listed Old Town, tailors' shops, and monthly full moon lantern festival. This place is quiet, calming, clean, and filled with all fresh air.
It has long sandy beaches and five-star resorts. Hoi An attracts family holidaymakers and solo tourists in large numbers. Mainly, Hoi An is famous for its textile industry. Another reason for people coming to Hoi An is because of amazing tailors all over the town. You can find a variety of silk and choose one of your choices. You can also make your own personal patterns things done here.
Things to do in Hoi An with your family
First and foremost, just roam around and explore Hoi, An ancient town.
Have your favorite coffee at some cozy café.
Go fishing with your kids.
If your kids love art and crafts, then do not forget to take them to Hoi An lantern-making class.
10) Zurich, Switzerland
Zurich is a beautiful lakeside city in Switzerland. It is also known as the home to the spectacular alpine country. This city is the city of a global center for banking and finance, which lies in northern Switzerland.
Moreover, this place is so beautiful and calming that it is loved by many tourists and has chosen it as a perfect holiday destination. If you are looking for a city that gives you cozy vibes for spending the holiday, then Zurich is one.
Things to do in Zurich with your family
Make sure that you visit the Wow museum with your kids. It is the perfect place for your kids to enjoy seeing some unique illusions.
Visit Zurich zoo where you can find many different animals like elephants, majestic rhinos, giraffes, etc.
Take a tour of the home of the official FIFA world football museum.
Go to Lake Zurich with your family where you can enjoy swimming, lounging around, or hopping in a boat.